A holiday in an area like Lake Garda Trentino (also) begins by leafing through a book that tells you about it, making you fall in love with it page after page.
"Reading is the journey of those who cannot take a train" [Francis de Croisset]
There is a pure and authentic form of travel that gives you a strong sense of freedom without your having to move a muscle: reading.
And a place like Garda Trentino has so many fairytale corners worthy of a novel. As documented by famous authors and writers who stayed here, revealing to those who had not been able to visit this wonderful territory, how much the latter deserved a visit. Goethe himself had transformed that stretch of water between "the Alpine peaks" into a corner of paradise, describing it with a poetic image and enticing generations of visitors into this corner of landscape at the foot of the Alps.
Searching for books in the Riva del Garda Library
If you too, as a book lover, have been inspired by the tales of the great poets of history and you have come here, perhaps thanks to a rainy day, you cannot miss the opportunity of visiting the splendid Public Library of Riva del Garda, a municipality which, in 2017, was called the City that reads thanks to the Library's important contribution in continuously carrying out activities to promote reading.
The Public Library was opened in the early 1960s and has always offered its visitors an extensive array of books as well as having a valuable old collection and a musical collection.
It is situated in the historic Palazzo Lutti Salvadori, a three-storey building in which you can detect the smell of freshly-printed pages and old, timeless masterpieces. Here, in its elegant rooms you will find many interesting works and even some famous authors! In fact, if your holiday has the sweet scent of late summer, in September you cannot miss the Intermittenze review, promoted by the Riva del Garda Public Library which will enliven the streets and squares of the pearl of Lake Garda, filling them with Italian and international authors, fans of reading and books! But not only that, the Library is active and lively all year round and gives free space to creativity through the organization of events, meetings and workshops that promote culture in all its facets.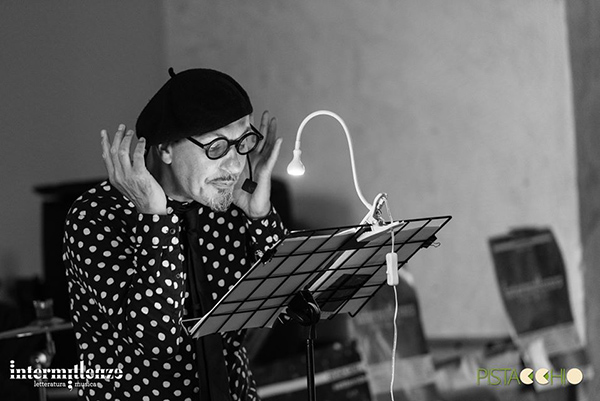 Garda Trentino in a Book
And if you want to immerse yourself in the pleasure of reading about our Garda Trentino, we suggest, with the help of the Riva del Garda Public Library, these unmissable titles:
Rainer Maria Rilke ad Arco (Rainer Maria Rilke at Arco), byElena Filosi. • With this book, the authoress wants to "bring out" from the past and from the pages of a refined writer like Rilke, the Alto Garda territory. A wonderful starting point to visit the beautiful Habsburg town and enjoy its retro atmosphere.
Franz Kafka a Riva del Garda di Albino Tonelli (Franz Kafka at Riva del Garda by Albino Tonelli). A beautiful tribute to Kafka on the occasion of the centenary of his visit to Riva. To be read if Riva has remained in your heart as much as the immortal works of the Prague author
Guerra sul Lago di Garda (War on Lake Garda): 100 photographs tell the story of the Second World War on the large lake. A nice collection for photography lovers, images that will undoubtedly leave their mark on each of you.

Leggende curiosità e misteri del Lago di Garda. (Legends, curiosities and mysteries of Lake Garda, by Simona Cremonini). An ideal tour of Lake Garda in search of unusual and mysterious facts from Riva del Garda downwards. If you love curiosities you can't miss it!

La montagna sommersa: Top Garda diving guide = guida alle immersioni nel Lago di Garda – Nord / a cura di Ambiente Acqua. The submerged mountain: Top Garda Diving Guide in Lake Garda – North / by Ambiente Acqua. Finally, a book for lovers of scuba diving. The submerged Garda reveals a rich natural habitat that will fascinate experts and beginners who will be curious to put their heads under the water and start exploring the underwater world.
See if there is a copy in your language in the library!
And if you are looking for books and you visit our Information Offices, there too you will find interesting ideas for more or less highbrow reading concerning Garda Trentino in Italian, German and English. Some of them are translated into these three languages like this text:
"Ferrate dell'Alto Garda" ("Alto Garda Fixed Rope Routes") in which you will find a lot of useful information for enthusiasts, we can define it as a true guide to the fixed rope routes of Alto Garda.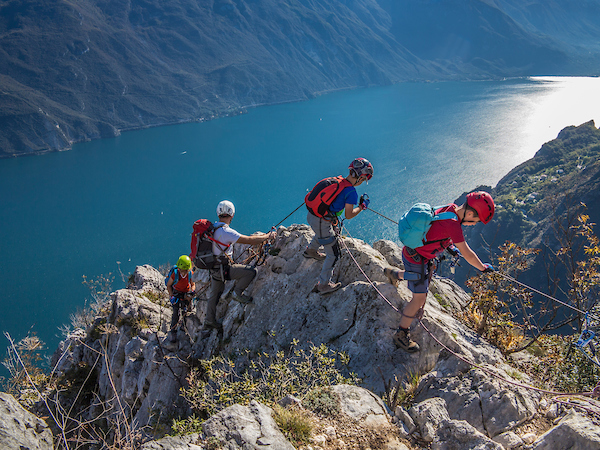 There are many other texts in English, Italian and German on the thousand plus activities you will fall in love with during a holiday in Garda Trentino: from trekking to biking, from sailing to windsurfing, to diving and the aforementioned climbing. So many outdoor emotions told page after page and which are just waiting to be experienced by each of you!