A pristine trekking at high altitude for expert trekkers that love to face challenges. The top crown of Garda Trek to go from a mountain hut to…the following one!
Holidays in Garda Trentino rhymes with outdoor living in close contact with nature, away from chaos, pollution and stress.
Breathe in the scent of an immaculate forest, resin and small fruits: yes, we are talking about trekking at high altitude! And there is no better activity that can bring you back to a state of peace and quiet.
Outdoor holidays are the most popular and sought-after and Garda Trentino is fully in line with this trend. Here all outdoor sports give your holidays a touch of low environmental impact – they are sustainable and revitalizing. The great environmental heritage of the region is the necessary prerequisite for offering green and open air emotions.
If you are looking for a trekking holiday, here in Garda Trentino there is a project that will literally make you fall in love with. It is Garda Trek, which develops on three circular routes to be covered in stages, along the slopes and ridges that act as a "crown" to the majestic Lake Garda.
The highest circuit of Garda Trek (Top Loop) is composed of seven stages that can be covered as you wish; one after the other or lived in different times, customizing the route according to your needs.
There are in fact several possibilities to return to the starting point (Riva del Garda) on foot or by public transport and even by boat!
From a mountain hut to another for lovers of long walks and gourmet stops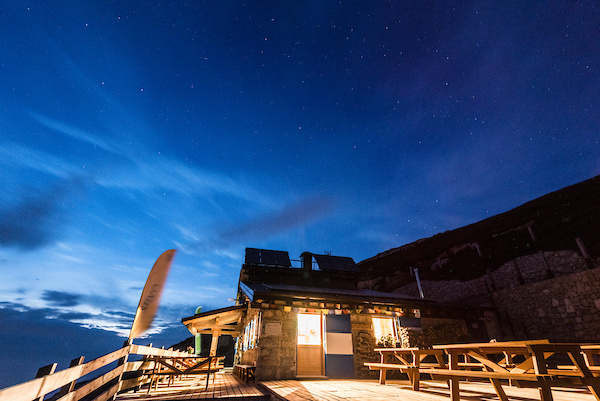 The Top Loop (to be chosen if you have trained and can sustain hours of walking), provides overnight stays both in the beautiful mountain huts at high altitude and at the bottom of the valley, alternating the type of accommodation and offering the opportunity to experience different types of structure.
When to face this circuit? The Top Loop is open from June to October, but it is always advisable to check the presence of snow before setting off! Seasons are always unpredictable.
Of course, this circuit will cost you "effort", challenging climbs, gradients and lots of sweat but unforgettable views and incredible emotions like those that will give you, are unparalleled.
To offer magnificent suggestions will be then the magical nights in the mountain huts, from up there the lake will seem almost small while the lights of the city in the distance will create an enchanting atmosphere.
A slow pace holiday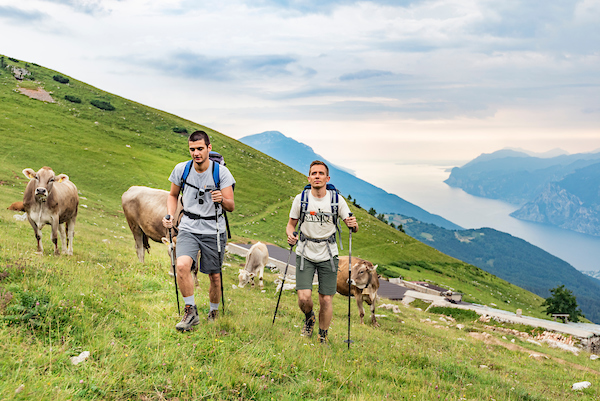 If trekking and mountain life are your two passions, you can live the intense emotion of combining them both by choosing the experience you like best. You will live the dream of a professional trekking with an expert mountain guide who will lead you to the discovery of the most suggestive corners of woods and paths. And to spend the night admiring the stars shine and an experience visiting mountain huts to enjoy the warm atmosphere of wood and rustic environments.
To refresh yourself after the intense walks in the mountain huts, the delicacies of Trentino are waiting for you! Polenta, cheeses and delicious meats prepared according to traditional recipes.
Choose the package you like the most (short 3 nights or extra 5 nights), make sure you have everything you need and immerse yourself in the nature of Garda Trentino step by step. Trekking helps you escape from a world that sometimes seems to run too fast. On the other hand, as William Blake said: "when men and mountains meet, great things happen". Let it happen and experience the mountains with respect and passion. It is a love that here, at Garda Trentino, will repay you with unforgettable memories.