Excursions to Santa Barbara church, one of the most panoramic and exciting spots all over Garda Trentino.
The view in front of you is undoubtedly unique. Your tired legs and the sweat coming down you forehead become only a memory, paid back and stuffed by the breathtaking view on Lake Garda and all over Riva.
UP TO THE PEAK WITH YOUR HEART
The excursion to Santa Barbara church is one of the favourite destinations of thousands of hiking and nature lovers!
Looking at it from Riva del Garda city center, the little church appears like on the clouds. Actually, it is nestled in Mount Rocchetta rocks, just below Bastione, another iconic symbol of the town.
SANTA BARBARA CHURCH
Santa Barbara church was built in 1935 by those miners who had built the Ponale hydroelectric plant. The miners' protectors has given her name to this little meeting house, that today is a regular destination for many hikers who get to this church with perseverance and sweat, enjoying a stunning view on the lake.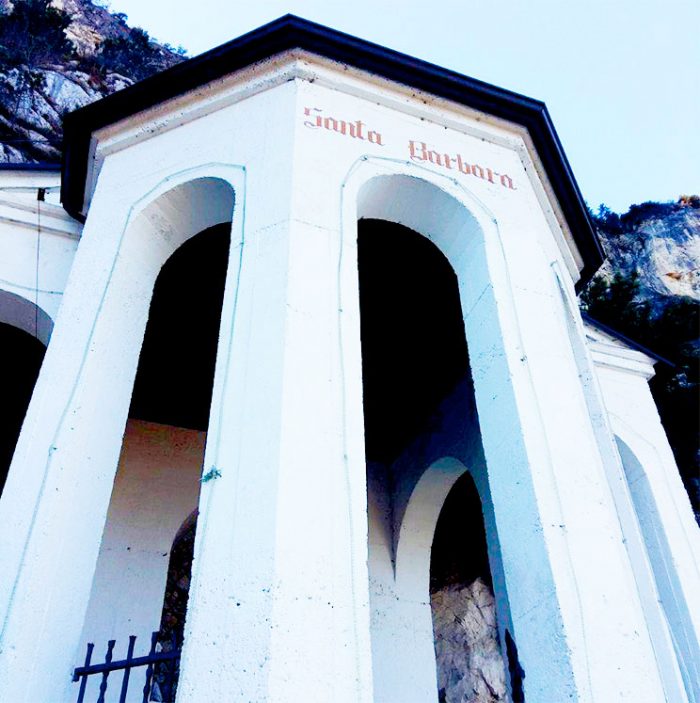 THE EXCURSION
You set off from Monte Oro street in Riva del Garda, and you start the ascent to the Bastione. From here, you take an unpaved path. The distance that takes you from Bastione to Santa Barbara church (an hour or so) will give you unforgettable glimpses, segments of light blue lake and lush mountains. Step after step, you will go into a woods (be careful, you need some good hiking equipment!) completely surrounded by the most faithful nature while feeling your lungs filled with peacefulness and tranquillity, breath after breath.
It isn't undoubtedly just a walk, but rather a proper hiking excursion for those who fancy slopes and trained legs! The view that will leave your eyes wide open will pay back the physical effort. And, if halfway through you will ask yourself "Why in god's name did I do that!?", be sure that once to the Santa Barbara hut you will thank your legs and your desire of challenging yourself and the heights to discover the beauty around us. Or also above us. After all, life is a matter of perspectives!