Dro
This pipeline goes down from Lake Cavedine, crosses all the marocche from below and brings water to the power station. In 1906, right at the beginning, the one in Fies was the most important hydroelectric plant in Trentino, both as an electricity producer and consumer. In a short time, the need for electricity grew dramatically and many others developed, like those of Dro, Ceniga, Santa Massenza and Riva.
Back then building a power station was equivalent to building a space base. It was completely different from everything around it. At the beginning of the 1900s, this area was inhabited only by farmers who, since the Middle Ages, had lived without receiving any external stimulus, as if they were in the high mountains: setting up this colossus had a very strong environmental and social impact.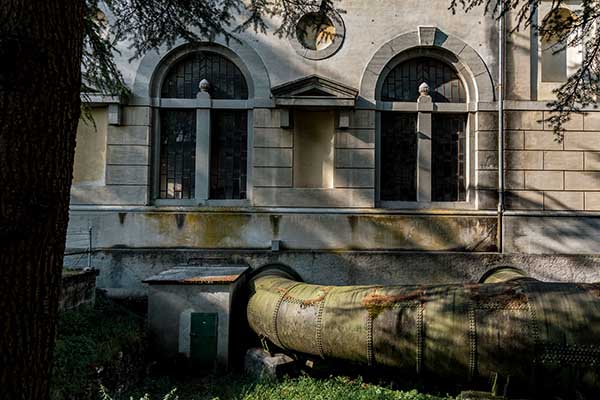 To build it, bricklayers, stonemasons, engineers and technicians arrived from the Po Valley, which at that time was full of ideological ferments that did not exist here. All those professionals brought with them the cooperatives, the trade unions, the first Catholic and socialist leagues. These people settled in Dro on a permanent basis and brought a breath of fresh air to the village, a small centre of rural suburbs south of the Austro-Hungarian Empire which the Austrian nobility passed through, without ever stopping, to go on holiday or for treatment to Arco and Riva.
Therefore, indirectly, the power station caused a radical break in the balance and in the centuries-old mentality of the community. After a thousand years of nights spent with chickens on their laps, milk, fields and life regulated by the seasons, people discovered progress, and everything changed forever.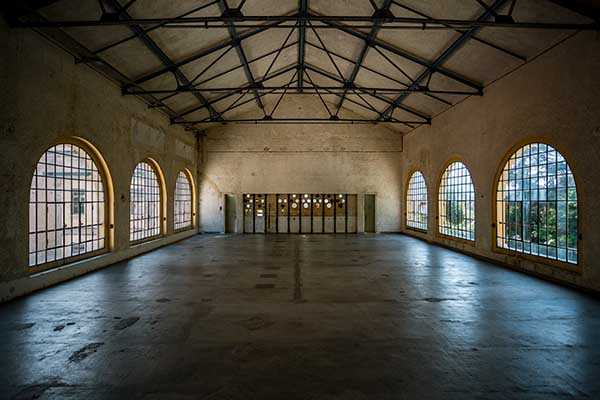 (Photo 3)
I worked in the small municipal library and in the early 1980s I tried to imagine something that could give the village a cultural jolt. Together with some friends, we initiated Drodesera, a theatre festival that took place in the courtyards and houses of Dro in the summer. We were good at keeping it active over time and making it grow slowly, always bearing in mind what was happening in the outside world, until it became a meeting point for artists at both national and international levels.
Despite this large-scale vision, however, we have always remained typical of the province, in the sense of small size and independence in choices. If we had become institutionalized we would have been set in our ways and we would have lost that freedom that allows creative minds to produce and see new ideas come true.
In 2000, thanks to Hydro Dolomiti Energia and the Autonomous Province of Trento, we moved here to the hydroelectric power station in Fies, occupying areas which had been abandoned for years. A small part of the plant is still working, but most of those huge halls had been empty and silent for years.
We rolled up our sleeves and renovated the electrical and hydraulic systems, the insulation and masonry and created what is today one of the most important artistic residences in Italy for the theatre, creating a place where the festival could produce plays on a permanent basis, offering authors and performers a place full of stimuli to live, write, experiment and perform.
For those who pass through the Top Loop of the Garda Trek, the stop in the Sarca Valley represents a moment of rest at the bottom of the valley before embarking on the demanding ascent towards Monte Stivo. And it is right here, among fertile fields full of vineyards and orchards, that some of the most particular and unusual places of Garda Trentino are to be found. Fies, a hydroelectric power station that looks like a castle from the past but hides an avant-garde artistic centre, is one of them. Dino Sommadossi, one of the architects of its rebirth, tells us about it.