At sunrise, Lake Garda Trentino gives its best. A pink light pervades the environment and reflects on the water and the first sunrays slowly colour the mountains of a golden nuance. At sunrise, Garda Trentino is to be lived, loved and photographed!
The couch potatoes struggle to understand the early birds: they set the alarm clock early even on holiday.
Anyway, the ancients used to say <<All work and no play makes Jack a dull boy>> and, especially on holiday, days are special if you get up early with the pink and golden lights of sunrise.
OBSERVING NATURE WHILE IT IS WAKING UP
The sunrise at Lake Garda is one of the best moments to live the charming beauty of a lake that, here in Trentino, is hugged by massive mountains, the first to welcome the warm and faint golden sunrays.
Pink, golden, light blue. No matter where you are going: getting up early is a great way to discover the less common colours of the lake, to watch the sun rising and begin your adventures earlier.
DAYBREAK SPORTS
The early morning is the perfect moment to practise some outdoor sports on holiday, because there's nobody around. The water sports you can practise at Lake Garda are many. Riva del Garda and Torbole are the undisputed queens of windsurfing and sailing thanks to the regular winds that blow from morning to night.
At sunrise? Well, this is the perfect moment for the SUP – because the lake is flat – or the kayak!
Otherwise, you can enjoy the wind Pelèr – the northerly morning wind that blows from the early night to 11:00-12:00 a.m. – to go windsurfing!
If you prefer the mainland, your morning exercises might be some yoga on the beach or jogging along the shore of the lake.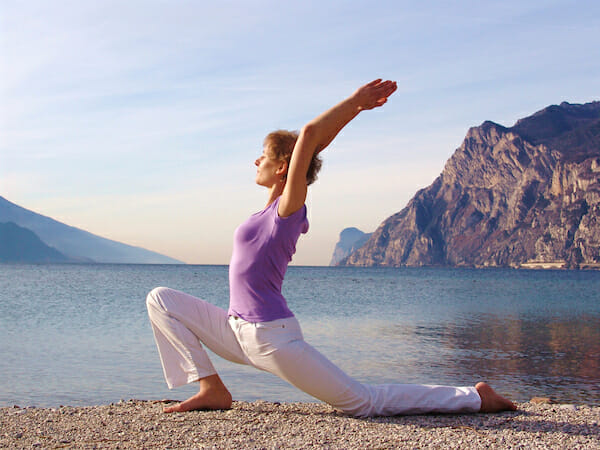 SHOOT YOUR SUNRISE
There are so many places to observe or take pictures to the sunrise at Garda Trentino! Here's a list:
If you are planning to discover the marvels and awesomeness of Lake Garda between the end of July and the beginning of August, you will experience the Musica Riva Festival, a legendary international musical kermes offering, besides the other events, a suggestive concert at the sunrise, Alba sul Garda.
To watch the sun rising, enjoy the empty beaches and a delicious and revitalising breakfast at the lake almost alone, just like that marvel was only for you, painted by a divine artist. The sunrise at Lake Garda Trentino is pure magic. You may also become an early bird too, who knows…