Someone wants it thin, someone else crisp or soft. It does not matter: the Italian pizza is necessary. Here is a list of the best pizzerias you can find at Lake Garda Trentino.
The 10 best pizzerias at Lake Garda Trentino? Here is our top 10!
You know, the pizza is the Italian main food everyone in the world knows.
A simple, cheap and wholesome "comfort food". If you taste this delicacy in one of the most beautiful places in Italy like Garda Trentino, it will taste even better! Riva del Garda, Torbole, Arco, Dro. There you can find many good pizzerias. Thin, crisp, soft, gourmet, gluten-free? Whatever it is, enjoy your meal! Tell us your favourite pizza and read our TOP 10 pizzerias at Garda Trentinolisted in random order.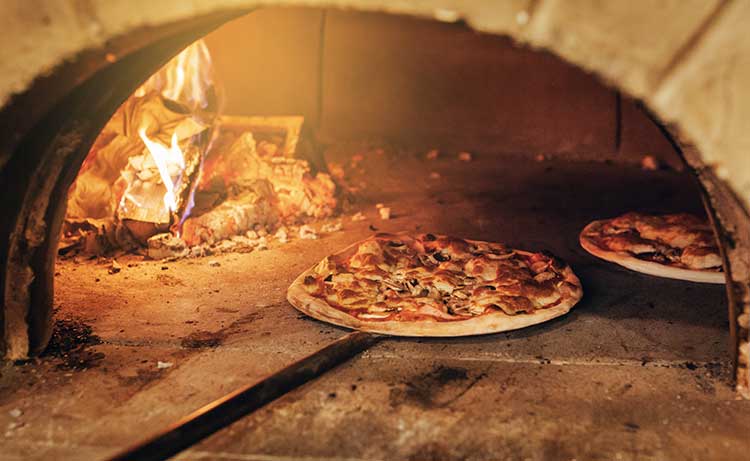 Leon d'Oro. In the heart of Riva del Garda,at the family-run hotel restaurant Leon d'Oro, opened in 1938, you can taste typical food or classic, special, white pizzas? Their best one? With 24-month seasoned raw ham!
L'Ora. At the lakefront, overlooking the marvellous harbour San Nicolò in Riva del Garda, the restaurant-pizzeria with a huge glass wall to stare at the lake while eating whole pizzas Wanna try the calzone?
Riva mia. In the very heart of Riva. A welcoming and recently renovated pizzeria where you can taste typical food or pizzas with local cheese or gluten-free ones.
Casa Beust. Antica Villa Patrizia, situated in the picturesque pedestrian area in the oldest part of Torbole, not far from the beach and the village centre. There, you can taste classic pizzas or seafood ones. A tip: taste your pizza outdoor, at the lakefront. Unbelievable!
Al Porto. A restaurant pizzeria very close to the lake in Linfano di Arco, near Garda Thermae. Wide and modern halls will welcome you, but you can take your sit and have one of their 50 pizzas even outdoor, in their green area. Try the kamut pizza, it melts in your mouth.
Pizzeria Centrale. In Chiarano di Arco, in this pizzeria you can find top-quality flours. They have a totally organic pizza called "in Forma pizza", a mix of flours to get the highest nutritional properties of the grains and about the 50% less of calories than a standard pizza. Hulled wheat, kamut and the extravirgin oil of Garda of their own production.
Boccon d'oro. On the road from Arco to Riva, a welcoming pizzeria designed with lamps made of old branches and home-made rice paper. Here, pizzas are large and cooked in the wood-fired oven. Classic, special, vegetarian pizzas and delicious beer. Or, organic kamut pizzas and local products… it's up to you.
Ai conti. In the old centre of Arco, in Palazzo Marchetti, to taste a pizza surrounded by history. In this dwelling belonged to the Counts of Arco, in wonderful halls, you can taste a well-risen pizza as the dough rises for 72 hours. The most original ones? The creamy pizzas like the pizza with walnut cream, speck ham, mozzarella and slices of apple!
Piccola Dallas. In Giare di Arco, a pizzeria surrounded by nature with a private car parking. Besides typical or grilled food – this pizzeria is a grill house, too – you can taste well-digestible pizzas like those produced with vegetable charcoal dough or with carne salada of their own production. Moreover, your kids can play in the outdoor inflatable amusement park.
Ristorante – Pizzeria Alfio. In Dro, a welcoming and modern pizzeria where they pay great attention to the quality of the ingredients. Try the semi-whole and stone-ground pizza risen for at least 48 hours. Highly digestible! Then, classic, special or the new and trendy gourmet pizzas, like the gourmet calzone with mozzarella, Crudo di Parma, porcini mushrooms, red hot chilly pepper where, after the cooking, they add buffalo mozzarella, rocket, cherry tomatoes and extravirgin oil of Garda.
These are our best 10 pizzeria at Garda Trentino. What's your favourite one? What pizza do you prefer? For me, the best pizza is Margherita. Simple and exciting, almost like Lake Garda!