The single parent families are on the rise. Whether they are single parents or simply mum or dad who go on holiday with their children but in different periods, holidays must meet all needs. What better location than Garda Trentino?
Single with children: the number of single-parent families formed by a single parent with one or more children is growing. A different composition of families also means a different approach to holidays. When in the family there is one parent and one or more children, the only solution is to choose the ideal place to have fun and spend peaceful holidays!
If mum or dad are thinking about holidays with their offspring, we suggest the ideal destination to spend the most awaited period of the year. Ready for happy moments with your children and for the deserved relax for you?
Where? At Lake Garda Trentino!
Lake Garda for all ages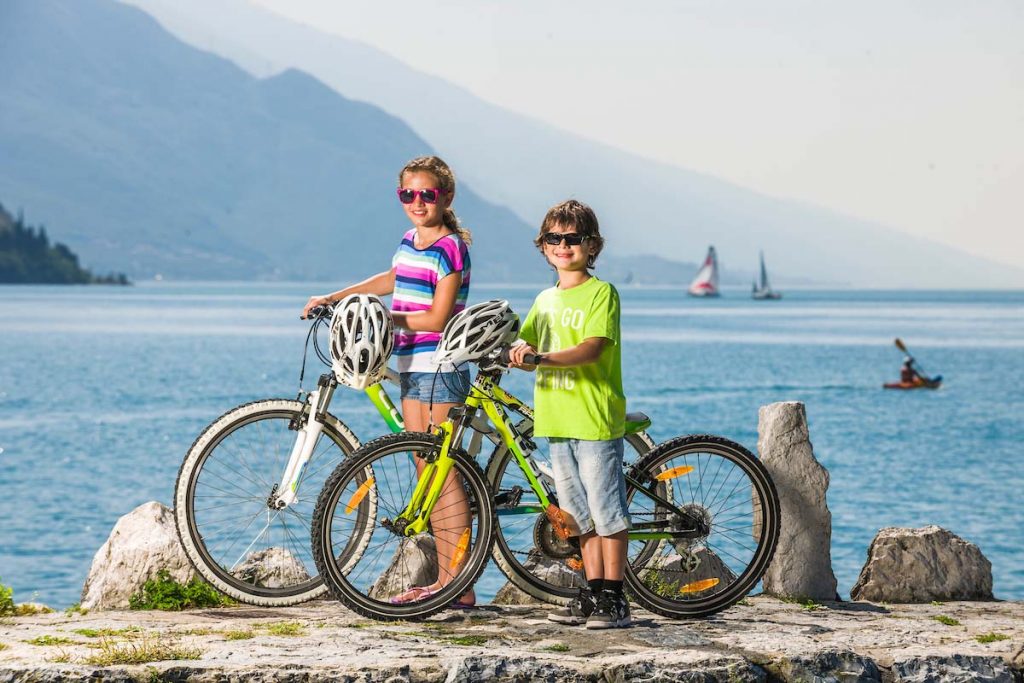 The immense lake basin is full of breath-taking views and the northern shore, in the province of Trento, is child-friendly.
Its tranquillity, its many cycle paths, beaches, and thousands of outdoor activities designed for families, make this destination the ideal one for a parent with child in tow.
So, why choosing Lake Garda for a 1+1 holiday? We will give you some great reasons:
Mediterranean climate. When we say: "health first of all" is a great truth and especially when choosing a destination to spend a holiday with children. Garda Trentino ensures sunny days and a mild climate for many months of the year, perfect for the many outdoor activities you can practise even in the middle of winter!
Little champions grow up. Did you know? At Garda Trentino there are many specialized schools where you can also start a fast course your little champions! Active outdoor experiences directly on the lake by boat such as sailing, windsurfing, exciting canyoning or "land" activities such as climbing, trekking, biking!
Amusement parks just a stone's throw from you. Gardaland and the other famous amusement and adventure parks are comfortably just an hour away, with direct connections with transfer. In Riva del Garda, the little ones will be able to discover the wonders of the curious reptiles at Reptiland or feel like little Indiana Jones at Torbole, at Parco delle Busatte which offers a large place surrounded by nature, with services dedicated to dynamic spirits.
International Kids Club in summer. In summer, on the beach, parents can relax and enjoy sunbathing while their kids have fun! In fact, in addition to a free entertainment service on the beach, the International Kids Club is available – always check the times and days – and allows children to "go wild" and have fun with a thousand activities directly on the beach and get to know children of any nationality supervised by qualified staff.
Boat tours. Malcesine, Limone and other beautiful places in the nearby will be even more beautiful to discover by boat! A straw hat, a camera and the sun kissing you and your little explorer! What more could you ask for?
Tailor-made offers. There are many hotels that wink at single parents with children at Garda Trentino. Solutions tailored for children but also for adults will simplify the "gengle"'s life (did you know? This is how the single parents are also called). A tailor-made small family holiday in one of the many family hotels in Garda Trentino is waiting for you. All you have to do is to click and book.
Every family, whether traditional, extended or small, is worth the trip. The destination that turns it into a dream is called Garda Trentino.
credits @Ronny Kiaulehn
Singles with children on holiday