A corner of paradise… this is what we saw on Monte Creino, close to Lake Garda Trentino, with some special guides. Guess who they were!
Turn after turn, the deep blue Lake Garda gets wider and wider. From above, it looks like a limitless expanse of blue in a frame of massive mountains. Where are we? Heading to a small but pretty malga, Malga Zanga!
We left from Arco and, about half an hour driving, we reached Roberto, manager of Malga Zanga.
Llamas and donkeys came to say hello to us and… you know what? These donkeys will be our guides during our active experience at Garda Trentino!
Roberto and Mauro guided us during the trek. Mauro, a dazzling smile and a sparkling form, was our official courier! Mauro is a mountain guide that has been running the School of Mountaineering
Mmove for 18 years.
Not only a School of Mountaineering. Mmove is a band of friends who love guiding and making their clients live great emotions outdoor.
Together with Roberto and Mauro, we had other two guides – the donkeys!
Roberto explained that the donkeys love being brushed. He didn't have to say it twice to Little Ambra, 9, who was ready to ride her donkey.
The sweet Lory, Roberto's fiancée, had prepared us a snack. Now everything was ready for the adventure with Fantasia and Nuvoletta, the two donkeys, helped by Bella, a beautiful dog of Malga Zanga!
On Monte Creino, the panoramic point of view of Garda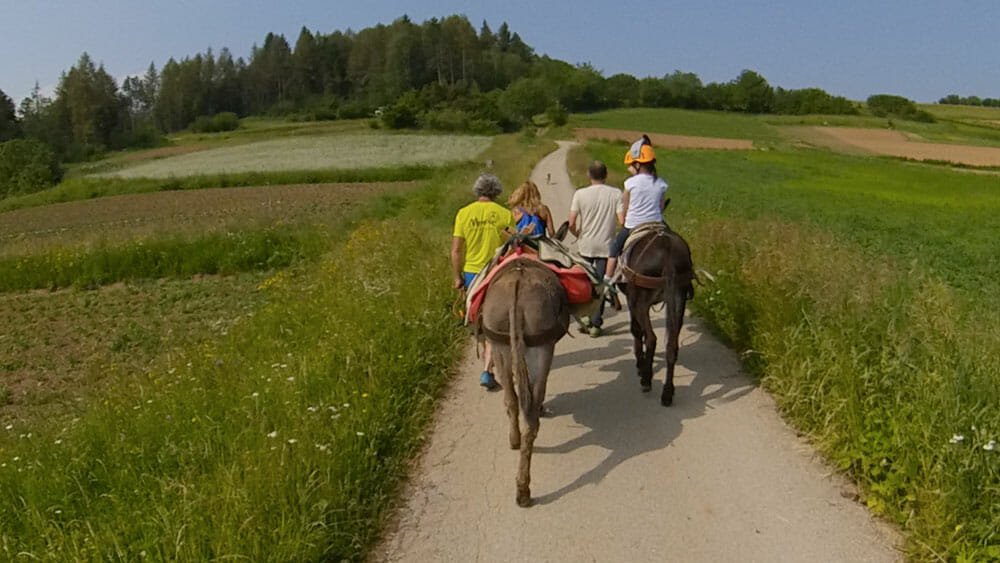 After about half an hour walking in nature, we reached the top of Monte Creino, a panoramic terrace over Lake Garda, at 1260 mt asl. Fantasia and Nuvoletta had carried our backpacks full of watermelon, soft drinks and a carrot cake Lory had cooked for us in their malga!
Some cuddles, some pictures and… it was already time to walk back! First, a look to the foxholes! Here, you can observe foxholes, tunnels and posts the Austro-Hungarian army built during the First World War; some are in a good state of conservation.
Before going back to the malga, the donkeys had their snack, too. Roberto told us they love to eat… watermelon rids! Remember to carry everything back home and to wear appropriate clothing. When in the mountain, respect the nature and common sense. Do not leave your stuff there! Back towards the Malga, we reflected on the "slow" rhythm of nature, that sensation of well-being that makes you feel part of something bigger than us.
When we arrived at Malga Zanga, we chatted with Mauro. His face was shining with passion. He loves his job. He told us that the Mmove experiences at Garda Trentino are so many! Canyoning, climbing, ski mountaineering and biking to be lived with your family, your children – like the trek with the donkeys –, your friend or alone.
We had a delicious lunch with lasagne – you burn a heap of calories when trekking, hehe – and a good cup of coffee. Nature, silence and animals… what else! One last caress to Fantasia and Nuvoletta – they behaved so well with Ambra – and it was time to say goodbye to Roberto, Lory and Mauro. A day we will never forget!