In-between breakfast and lunch there's brunch! Away from the hustle and busle of everyday life brunch in Garda Trentino becomes a pure magic moment.
You say brunch, you mean emotions. In-between a rich breakfast and a light lunch, brunch is especially loved by those who want to delight their palate while enjoying a great sea view under the sunlight.
Wherelse can you taste a unique brunch in a dream location as Garda Trentino? Put yourself at ease in a bar, admire the amazing lake view reflecting the mountain skyline and enjoy every mouthful of a delightful brunch prepared with local products.
If all this is already making you droll, just scroll down to find some recipes for your self-made or gourmet brunch.
Hotels offering brunches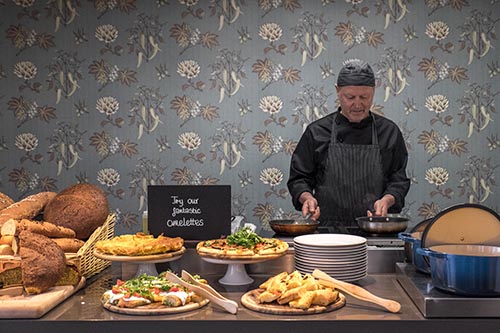 In Garda Trentino you'll find many hotels offering delicious and energizing brunches for your outdoor activities: hiking, sailing, riding…
Hotel IV Gardan located right in the center of Riva del Garda, opens its doors Sat. and Sun. from 11 to 2.30 pm. Hotel and walk in guests can taste here a brunch worthy of this name. People love calling it serendipity brunch. The idea is to make the brunch become a weekend ritual, something that people can fully enjoy without hustle and buste of everyday life. Freely inspired by the Anglo-Saxon culture, IV Gardan brunch is the right choice on those days where it is too late for breakfast and still too early for lunch. You can't choose between sweet and salty? Don't worry, you'll find a wide sections of both: bagels (you can have them with salmon, bacon or veggie), tempting chocolate desserts or more healthy waffles made with chickpea flour, maple syrup, fruit and crumbles. You can't decide yet? Come here to have a look yourself!
You can find another tempting and even awarded brunch at Hotel Luise in Riva del Garda. The hotel has been awarded with the National "Best Breakfast Award" during the Hospitality days competition.
In this elegant four star hotel hotel and walk in guests can taste a rich breakfast (it isn't properly a brunch) from April to November from 7 to 10.30 am – reservation is recommended.
You don't know how you can start off your day? Bread ( you'll be surprised by the varieties offered here), fresh baked cakes, eggs prepared in different ways, fresh and dry fruit, cereals… and many other delicacies. Intolerant guests won't be left empty-handed : they'll find here gluten free, vegetarian, vegan and lactose free options. Hotel Luise can definitely please the most demanding palates!
Self-made brunch with local products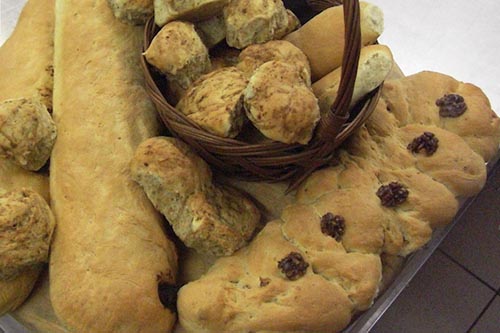 What if your stomach suddenly claims a brunch? Well, if your accommodation has cooking facilities, you can get some inspiration from our suggestion on how to prepare your own brunch. There isn't much you need for that: excellences from Garda Trentino and your creativity. Set it free and enjoy your own made brunch!
Let's try a French toast prepared with molche bread, farmer's eggs, extra vergin olive oil DOP and smoked trout from Garda Trentino.
Here you find the delicious recipe:
INGREDIENTS
• 8 Slices of molche bread (you find the recipe here)
• 8 slices of smoked trout from Garda Trentino
• Half lemon juice
• 4 (fresh eggs from the farmer – here you find the local market opening hours)
• 1 pinch of salt
• Cream of Torbole broccoli soup (you can find it here)
• Fresh Trentino milk q.s.
• extra vergin Olive Oil DOP from Garda Trentino
Heat a rich dash of extra vergin olive oil DOP from Garda Trentino in a nonstick pan and make it sizzle: the pan must be very hot. Take the slices of mosche bread and spread some Cream of Torbole broccoli on them, put the slices of smoked trout and a hard boiled egg. Dunk the sandwich in some milk and then in the beaten eggs (make sure the sandwich filling doesn't come out!). Brown each side in the pan for two minutes.
DE-LI-CIOUS!
You can taste your fabulous sandwiches with some apple juice, espresso (did you know there's even a local coffee roaster, fresh fruit and a slice of fresh homemade cake (lazy holiday makers don't need to worry… there are many bakeries here!) and… voilà!
This is how happiness tastes like…