With the advice of the expert booksellers of Riva del Garda, let's go hunting for interesting reading about our beloved Lake Garda!
If it is true that places have a soul, we can really say that the latter is wonderfully represented in a book.
Certainly, reading encourages you to travel and discover a territory of whose existence you were unaware or perhaps deepen your knowledge of it, its nooks and crannies, its history, legends and myths.
On the other hand, a book is itself a journey! So for all incurable reading enthusiasts (and serial travellers!), here is the advice of a bookseller enthusiastic about Riva del Garda and a great connoisseur of books, novels, essays and readings in general about a place like Lake Garda.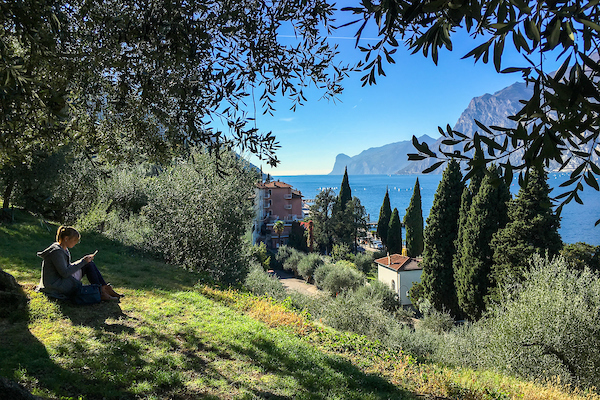 Expert Advice
Tre punti di rosso (Three red dots). A very compelling historical novel (with some "licence") by Luisa Gretter Adamoli which deals with Alfonsina Gonzaga, the seventh daughter of the famous Alfonso I of Gonzaga and Vittoria of Capua. Starting precisely from the manuscripts and a painting of the time, the story also develops with wonderful references to Riva del Garda. The book, in fact, opens with the discovery of a painting in the church of the Madonna Inviolata of Riva which portrays Alfonsina kneeling in prayer before San Carlo. Attracted by three red dots (which give the novel its title), the authoress begins to take an interest in that girl and reconstructs her entire life. The writer studies the relevant historical documents faithfully reporting them and thus giving the novel an aura of great truth and historicity.

Polvere nera. (Black Powder). Mussolini in Gargnano. Here is a historical reading by Bruno Festa, a teacher and the author of many historical and ethnographic publications. With "Black Powder", Festa commemorates the Duce's 600 days at Lake Garda. In fact, 559 days during which Mussolini lived as a normal Garda citizen since he was already in decline. Endless meticulous research that led to the creation of a 600-page book like the days of the Duce and that describes how his life in Gargnano influenced that place.

La maledizione del numero 55. (The Curse of the Number 55). With this work Massimo Tedeschi offers enthusiastic readers of crime books a work you won't be able to put down. He creates a character, Inspector Sartori from Salò, who thinks out of the box, is shrewd and likeable and leads the reader in a thrilling mystery story wonderfully set at Lake Garda!

Cercasi amore vista lago (Looking for Love with a Lake View). Dreamers and romantics, here's the book that's right for you! Virginia Bramati offers the reader the opportunity to be transported directly there, to this large and majestic villa on Lake Garda where the female protagonist, a young architect, lives. Memories and secrets hidden within the walls and beyond the old doors of this beautiful villa which, thanks to a passionate young woman, will relive all its splendour.

Luna bugiarda di Ben Pastor (Lying Moon by Ben Pastor). Here we are again with a historical novel but also a detective story. In this book, we find Martin von Bora, the soldier-detective of the Wehrmacht whom the author freely derived from the figure of von Stauffenberg, at the end of 1943, in a town near Verona. Here amidst murders and historical links with Fascism, the author leaves her readers with bated breath.

L'incompleto conoscersi di Carlo Simoni (The incomplete knowledge of each other by Carlo Simoni). Here is a novel set right in Riva del Garda. The author imagines the meeting between a twelve-year-old (the protagonist) and the brothers Mann. Heinrich and Thomas Mann, during their stay in Riva del Garda, meet the young man whose life will be marked forever by this meeting, making him understand how much strength he has within him and helping him to escape from a dramatic family situation.

Dammi il cinque. Una storia di musica e amicizia di Giorgio Mora. (Give me five. A story of music and friendship by Giorgio Mora). Here is a novel about friendship, set right at Lake Garda. Five friends meet in a juvenile prison in Salò and they face life together, as young people and as adults. Despite their sometimes difficult lives, the five will always continue to be fond of each other and to look for each other whenever fate gives them the opportunity to do so. A beautiful story about friendship and how this can help us, even in very difficult conditions, never to feel alone.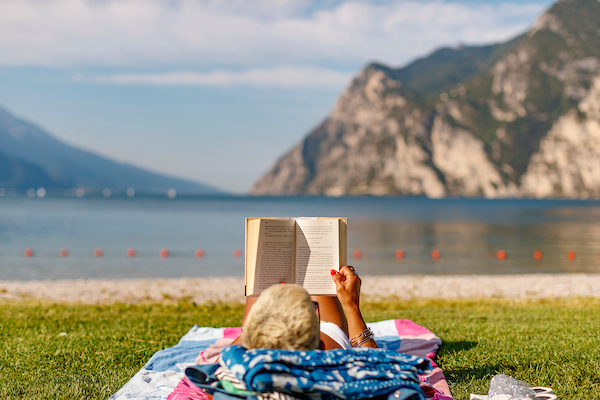 We couldn't conclude this roundup of compelling readings without mentioning two great classics? Kafka's story set right at Lake Garda and Goethe's Italian Journey.
In the first, Franz Kafka's The Huntsman Gracchus, we notice and love the tormented soul of this author who, perhaps, was looking, precisely in Riva, for the peace that eluded him throughout his life. Goethe, on the other hand, a profound lover and connoisseur of Garda Trentino, in his "Italian Journey" travels through the beautiful peninsula and pauses in Torbole where he says: "I was next to a magnificent product of nature, Lake Garda, I did not want to give it up and I have been rewarded".
What do you think of this advice? If it has intrigued you, the credit goes to Graziana, for years the face of a historic Riva bookshop that you will never see again behind the counter, as she is ready for a new adventure, and to whom we wish lots of good luck!
All we have to do is browse these pages in search of enchanting places like Lake Garda and, perhaps, look for and find ourselves a little too. After all, this is also the "task" of each book.