Strawberries, raspberries, blueberries, blackberries: in Drena in Garda Trentino in the shadow of the splendid medieval castle, there is a farm that makes small fruits much more than a job: it is a real family passion! Find out why with us!
The scent of woods and undergrowth, a living nature in the shadow of a medieval castle, that of Drena, in Garda Trentino, which proudly dominates the whole valley. In this pleasant setting, extending over approximately 50,000 square metres, is the Zanetti Andrea Farm which has been cultivating small fruits with love and dedication for forty years.
The splendid sunny exposure and protected from the winds, the fertility present throughout the territory and the presence of a unique microclimate, have meant that a wise relationship between man and the environment has existed here since remote times.
Within this context, Zanetti Andrea's Farm produces small fruits with full respect for nature.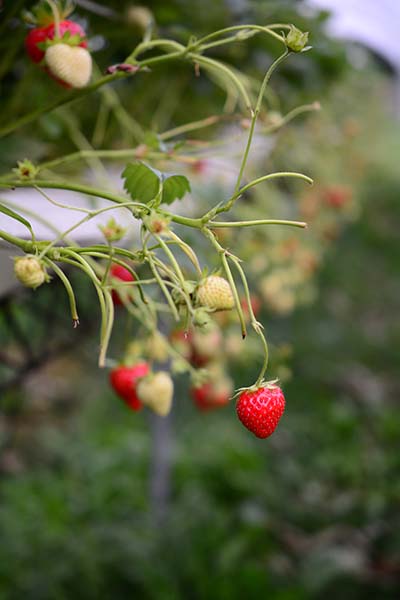 The very high quality of the products is guaranteed by plants selected and cared for with love.
Sebastiano immediately accompanies us to get to know their strawberries: we enter the cultivation area and discover that there are 7 different qualities of this fruit. One type in particular strikes us: the "murano" strawberry, a very beautiful re-flowering variety, conical and regular in shape, with a bright red colour. Its flavour? Excellent and very sweet, the opinion of… a food taster.
It is often mistakenly thought that the ripening period of strawberries is only June. And instead thanks to Sebastiano we have discovered that some varieties such as the "Murano" flourish again and again allowing you to enjoy these fruits from late May to late October.
Then we also discover not far from there the cultivation of raspberries.
Velvety, very delicate (perhaps the most delicate), rich in vitamin C and antioxidants, this fruit grows on a bushy shrub that can exceed two metres in height. Its small white flowers, collected in clusters, bloom between spring and summer. While we observe them they look like precious purple rubies while on tasting them (we admit, we also "stole" a raspberry directly from the plant) their tangy taste and fruity aroma is pure ecstasy!
While Sebastiano explains to us that we will also find delicious blueberries and succulent blackberries ready to be tasted on our journey to discover small fruits in Garda Trentino, we are convinced that this area has really been kissed by good fortune.
This strip of the Mediterranean in an Alpine context is capable of making the gifts of nature bloom in an incredibly florid way, just like the Zanetti Andrea Farm of Drena! On the other hand, here nature has even created … another moon! If you have never visited the Marocche di Dro, we recommend it to you after you return from a visit to the Zanetti Andrea Farm, but not before having enjoyed a nice lunch at the restaurant "La Casina", where you will have the opportunity to taste the small fruits of the farm as it is always part of the same big family!
A fleeting visit without disturbing the "fruit harvest" department [photo] and we are on our way.
Nature has been generous in Garda Trentino and thanks to the work of families and wholesome farms such as Zanetti Andrea's in Drena, we can all take home a precious gift like these small, incredible fruits.