"Bigoli con le sardele", a great classic of the Garda cuisine that contains all the scent of the lake and that pleasant sensation of "home" mouthful after mouthful.
By all mesans, call it "comfort food" because this dish, Bigoli with sardines or, in dialect, bigoi con le sardele, has all the flavour of the good Sunday dish that our grandmother prepared for us and that gave us a combination of love and goodness for our taste buds.
The origin of this simple dish has its roots in the past when, during the last war, rather large and dark, almost "floury" spaghetti began to circulate. The intention, it seems, was to satisfy appetites with a small quantity of food in that dark historical period. The only way to swallow this type of very "thick" pasta was to find good seasoning. And so there appeared the bigoi con le sardele, a dish that you will easily find on the menus of the many restaurants in Garda Trentino.
For the sardines, either in salt or in oil, we have chosen to rely on the Troticultura Armanini which produces these sardines caught directly in Lake Garda by local fishermen. The sardines, according to the traditional recipe, are filleted, peeled and left to stand in salt, washed with red wine and put in sunflower oil for an all-natural conservation. You will find the other ingredients you need at the Agraria di Riva del Garda: home-made bigoli, Trentingrana of the maturation you prefer and everything you need for this quick and easy recipe that is rich in flavour and tradition.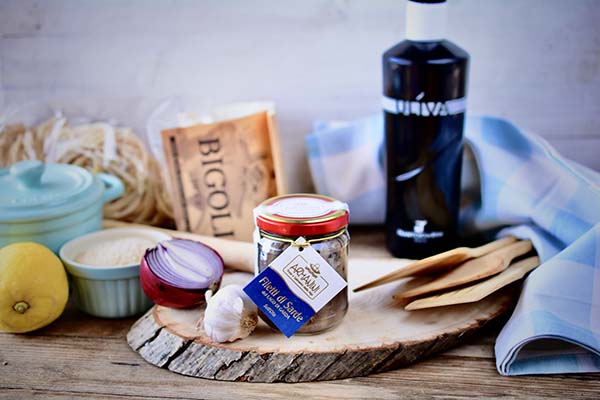 The Recipe
The preparation is very simple!
In a pan fry a little onion (the original recipe didn't even include it) in a little butter and extra virgin olive oil from Garda Trentino (we used Uliva di Agraria), add the sardines (if they are in salt, rinse them very well!) cut them into small pieces and, if you like, enrich this recipe with some breadcrumbs that you can brown in the pan together with the onion.
Cook your bigoli in a large pot filled with salted water and once they are cooked, pour them into the frying pan with the sardines. A nice sprinkling of parmesan (if you like), a drop of Garda Trentino extra virgin olive oil and voilà. Tradition is served.
Bigoli with sardines are definitely excellent comfort food for Lake Garda, the food that first satisfies the soul and then the palate. Are you ready to make it yourself?