A few, simple high-quality ingredients and a pinch of imagination: a refined finger food aperitif served at home with the excellence of Garda Trentino.
Trout speck, sardines in oil, smoked trout: there are so many ingredients with which you can try your hand in the kitchen to make tasty appetizers with the scent of the lake.
Beautiful to look at, but above all delicious, lake fish finger food represents the ideal solution for the table especially in summer.
Accompanying these authentic, wonderful delights at km 0 such as the cream of the Torbole broccoli, the "dried black, powdered olives from Garda Trentino" and other local delicacies, make these preparations a pleasant way to draw closer, while distant, to a place that we love as we savour all its wonders.
Here are some recipes you absolutely should try.
For lake products, we relied on Armanini's Troticultura, whose bywords are freshness and high quality. While for other goodies to accompany lake fish in the preparation of these three small appetizers, we turned to Agraria di Riva del Garda which, behind the motto "Passion, quality and local territory", contains in its elegant presentation many excellences of Alto Garda.
– Armanini Smoked Trout "roulade" Finger Food with Cream of Torbole Broccoli and Ulidea di Agririva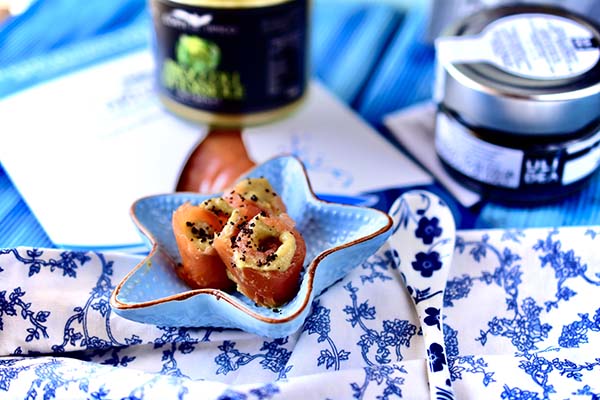 For this "amuse-bouche" you only have to remove the skin of the cold-smoked salmon trout fillet, make some strips with a sharp knife and spread the cream of Torbole broccoli on them. Roll up and finish with a sprinkling of Ulidea, the dressing based on crushed black olives, born from the encounter between selected olives grown by Agraria Riva del Garda and the signature cuisine of the Locanda Margon, from an innovative recipe by the starred chef Alfio Ghezzi .
– Homemade bread canapé with Ulidea mayonnaise and Trota Armanini Speck.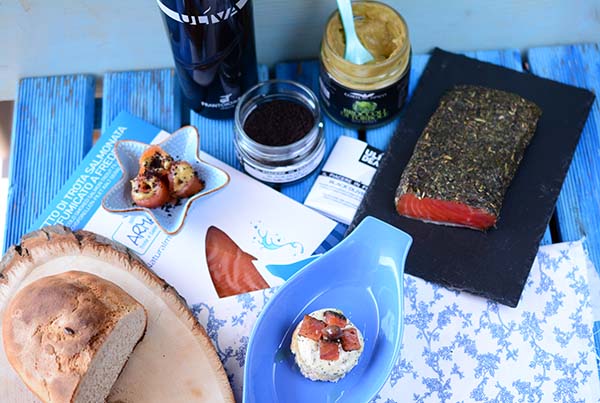 Another very simple finger food. Let's start with a home-made loaf of bread:
Mix 190 gm of water, 7 grams of dry yeast, 350 grams of stone-ground flour (type 3), 1/2 teaspoon of salt and 10 gm of extra virgin olive oil from Garda Trentino in a bowl (we used an Uliva di Agririva olive oil).
Mix everything with a mixer or by hand, form a ball, let it rise in a rectangular mould away from draughts and covered with a damp cloth until it has doubled in volume. Then cook it in a preheated oven at 200° for 15 minutes and continue cooking at 180° for another 20 minutes.
Once cooled, first slice this bread and then use a food ring mould to make round canapés.
Separately prepare the mayonnaise conveniently in a jar, without getting anything dirty:
In a jar at fridge temperature put the ingredients in this order:
1 egg (cold), 230 ml of seed oil (cold), 2 tablespoons of vinegar, 1 pinch of salt. Plunge the immersion mixer in the jar and use it at maximum speed. Wait for a few seconds, until half of the ingredients become the colour of dense mayonnaise. Lift the immersion mixer slowly and move it up and down quickly (so that also the oil on the surface will be well mixed). Add Ulidea (a generous spoonful), mix and spread on your canapé after letting your mayonnaise harden a little in the fridge. Finish with this delight: diced Trota Armanini Speck.
This product deserves a special mention: a precious smoked trout "ingot", with organic medicinal herbs from Trentino, which, thanks to alternating smoking and maturing, enhances an exceptional product that is extremely versatile in the kitchen.
– A small glass with courgette and ricotta mousse, with Trout Speck and Trentino balsamic vinegar
To make this final appetizer, you only need:
200 gm of ricotta
1 courgette
half a shallot
salt, white pepper and extra virgin olive oil, Uliva di Agririva, from Garda Trentino to taste
Trota Armanini Speck
Trentino balsamic vinegar of L'Acetaia
Fry the julienne of courgette in a pan with the oil and the finely chopped shallot. After about 10 minutes remove from the burner, drain the excess oil and leave the contents of the pan to cool. Take the cold ricotta from the fridge and mix it quickly with the blender, adding white pepper, salt and the courgettes fried with the shallot. Leave to cool in the fridge for at least half an hour.
Place this mousse in the glasses, add the small rose-shaped pieces of speck and then the final touch, add a drop of Trentino Balsamic Vinegar and a bit of Agririva Extra Virgin Olive Oil.
A real delight!
Would you also like to try your hand at some highly fragrant appetizers with typically Alto Garda lake and land products? Have a look here.