Imagine a perfect fusion between the warmth of Campania's Mediterranean and Altogarda's mountain flavors. The result? A simple but incredibly good dish. Here's Chef Mandico's recipe, presented at Garda con Gusto 2019.
We all know that a little imagination goes a long way in the kitchen. A young yet already quite esteemed chef – Gianluigi Mandico – must have thought the same thing when he brought his inspiration, but also a great deal of tradition, to Garda con Gusto – Gourmet Experience 2019.
Not surprisingly, the name of one of his dishes was "medley of pasta and potatoes from Val di Gresta with yogurt mozzarella and burnt onion powder".
But where did the idea for this dish – that so many during the last edition of the most eagerly awaited food and wine event of the year – come from?
Gianluigi himself explains it to us. You can now enjoy his creations at Mr. Panem, in the city center of Riva del Garda. Somewhat hipster-like – resembling its owners –it offers a real food and wine journey of Italy in a gourmet sandwich.
We had a nice chat with – what his friends like to call him – "Gigi", who has always remained true to his Campania origins.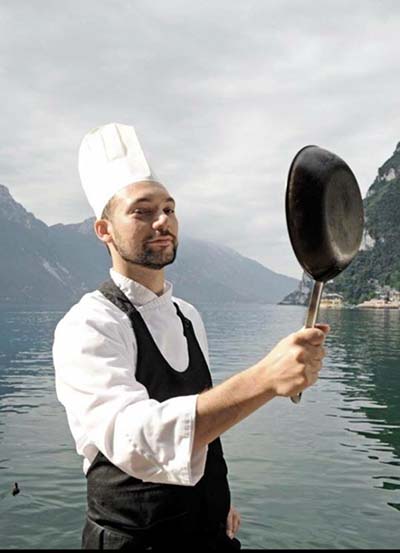 What distinguishes his dishes is the desire to perfectly combine Southern Italy, his native land, with the land that became his second home, Northern Italy.
With Mediterranean aromas and genuine flavors of the past, Gianluigi recreates that "comfort food" that is good for your soul even before it reaches your palate. And it is this comfort food that he presented during Garda con Gusto.
"Pasta and potatoes" is, in fact, a typical dish of the Campania tradition. A "poor" simple dish that contains all the secrets of Naples. A Naples that belongs to the people and that has made the art of "making shift" one of its best weapons. Gianluigi started from here – from that childhood memory – and then reinvented it with traditional products from the Garda Trentino area, potatoes being the star of this dish.
The Val di Gresta – the first organic district of Trentino, lulled by the breeze that comes in from Garda – is where vegetables grow sound and luxuriant.
Gianluigi used both yellow potatoes and delicious purple potatoes, which add color to the dish. The onions he uses are also from the Val di Gresta, which he then dehydrated and dried with charcoal, so the dish has a beautiful play on colors and lots of sweetness. In the end, Gianluigi adds a plum tomato cream.
The pasta, strictly mixed, is the Felicetti brand pastaand, to finish it off, a delicate explosion of taste that's given by the yogurt-based cherry mozzarella from Alto Garda, created through spherification.
A rich and invigorating winter dish that is also colorful and tasty.
But how important is the concept of zero food miles for Chef Mandico?
"When I create a dish, I always look back to the past, to my childhood, to my memories, to my land, and then bring these olfactory, tactile, and gustatory memories into my present and merge these memories with the precious raw materials that abound in this territory."
One of the products the Chef loves most is De.Co.'s carne salada.
Not only the product but also the way it is processed: "I treasure processes that follow centuries-old traditions and make them mine, applying them to other raw materials. For example, I created carne salada sausage and carne salada venison."
And, because he loves his Campania traditions, Gianluigi ends each meal with a nice "tazzulella 'e cafè", a nice cup of coffee: "I learned to come to know and appreciate Omkafè. It pleases me to find quality-roasting also here in Garda Trentino."
And to the question: "What represents you as a chef?", Gianluigi replies: "The dish itself represents you. A chef that is very dear to me, Emanuele Mazzella, told me this and, I must say, these words resonate in my mind to this day in every creation, with every play on contrasts and flavors. I like to put a bit of myself into my dishes. And this Dolo-Mediterranean fusion, here in Garda Trentino, is more alive than ever."