In Garda Trentino, outdoor sports can be practiced during any season, and the reason is simple: it's where mountain trails meet rolling hills, expanses of water encounter the sky, and every season is kissed by the climate of the Mediterranean. Come discover five hiking trails you shouldn't miss, and experience them (also) in winter.
It's always a great time to be outdoors in Garda Trentino! Why is that? There's actually more than one reason.
First of all, a mild Mediterranean climate that caresses the seasons, making even rigid winters pleasantly mild. In fact, this is the perfect season to practice outdoor sports, where you can come into contact with the luxuriant nature that embraces Lake Garda. A truly "sensorial" experience. The scent of resin and dew, the soft crackling of dry leaves under your feet, the warm colors of the woods that begin to turn amber. With the right equipment, you can begin your winter adventure in the open air.
We've chosen five hiking itineraries we're sure you'll love to experience during the winter in Garda Trentino when, on sunny days and with mild temperatures, the woods will be your gym in nature.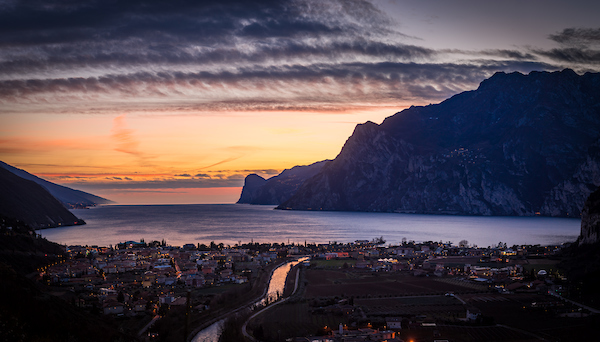 # Garda Trek Low Loop. This trail is divided in two stages along which you'll discover the towns of Garda Trentino, thanks to paths that are not often traveled and secondary roads. One of the most popular for many visitors, this is a moderate-difficulty hiking trail that's ideal for those who don't want to try their hand at trails that are too demanding. Along this loop, you'll be able to "embrace" this territory and its beautiful esplanades, set between tall green mountains, but also churches, ancient villages, and splendid vineyards. 
# Busatte-Tempesta. Three adjectives: panoramic, breathtaking, compelling. This easy itinerary, which overlooks the lake, hides a pitfall that is also part of its beauty: 400 iron steps divided into three stairways, built to overcome the steepest part of the trail. The path once marked the border with Italy in the Austro-Hungarian Empire. Today, it has established itself as one of the most beautiful itineraries in Europe, wonderfully panoramic (bring your camera or smartphone!)… and perfect for training your body and spirit. If you decide to hike along this trail, do so in the early afternoon, with the sun shining on your face, as you wait for the romantic sunset that colors the waters of the lake a pinkish orange. And it's instantly magic.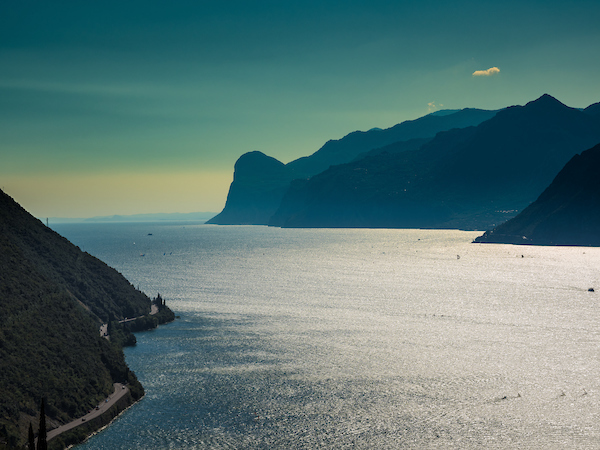 # Punta larici: a classic must-see in Garda Trentino that you should immortalize and share on your social media channels. This is one of the best known moderate-difficulty trails along which you can admire Lake Garda in all its majesty. Just three kilometers of hiking while you enjoy a priceless view of the largest lake in Italy. And, if you desire, you can even indulge in a delicious picnic with freshly purchased zero-mile products. 
# Coste di Baone: An easy, 5-km loop between the Castle and the Arco olive grove, which offers wonderful views of Busa and Lake Garda, where the scents of aromatic plants gradually intensify as you go along. On clear winter days, Mediterranean plants blend with a typically mountain landscape, with the snow-covered Monte Baldo and the blue waters of Lake Garda that create a perfect balance which seems almost surreal. Even olive groves are an integral part of the landscape. The 360° panorama over the entire "busa" is a perfect photograph of the almost paradoxical beauty of Garda Trentino.
# Marocche di Dro. Welcome to the moon. If what you're looking for is an easy hiking trail in a truly unique landscape, outside of time and space, this protected area is just for you. Created from a large landslide in the post-glacial era, along this trail, you'll be able to admire dinosaur footprints dating back over 100 million years! The "marocche" ("large stones", in dialect), are Garda Trentino's 
"desert" and, during the winter, it's a very pleasant itinerary, even more than during the summer, when the heat warms the "morocche", making the air even warmer.
Want some tips for some carefree, fun winter hiking?
Check the weather forecast carefully.
Remember that it gets dark sooner in winter. If you want to enjoy the sun, leave early.
Dress in layers.
All you have to do is choose the hiking trail you like most and enjoy this outdoor experience during the winter, a season that has nothing to envy of other seasons, as you feel peace and well-being here in Garda Trentino, while also keeping yourself in shape, reveling in what mother nature has to offer.