Whitefish, perch, trout, pike: there are many varieties of fish that populate the immense Lake Garda. If fishing is your favourite sport, read the advice of our expert Alberto Rania, el Pescador!
It is the largest lake in Italy. An immense body of fresh water that bathes three regions: Veneto, Lombardia and Trentino. On this last side, the northernmost one, called Garda Trentino, the waters are incredibly crystal clear, transparent as in a Caribbean sea. This is why, in addition to enjoying it for a swim or water sports, Lake Garda Trentino is the ideal setting for a sport like fishing.
Embraced by the Baldo chain and the Ledrensi Alps, this corner of paradise takes on the appearance of a fjord and its navigation is truly suggestive. Early in the morning the tranquillity is surreal, as if time has stopped. Word of Alberto Rania, el Pescador.
Alberto Rania, the real fisherman of Lake Garda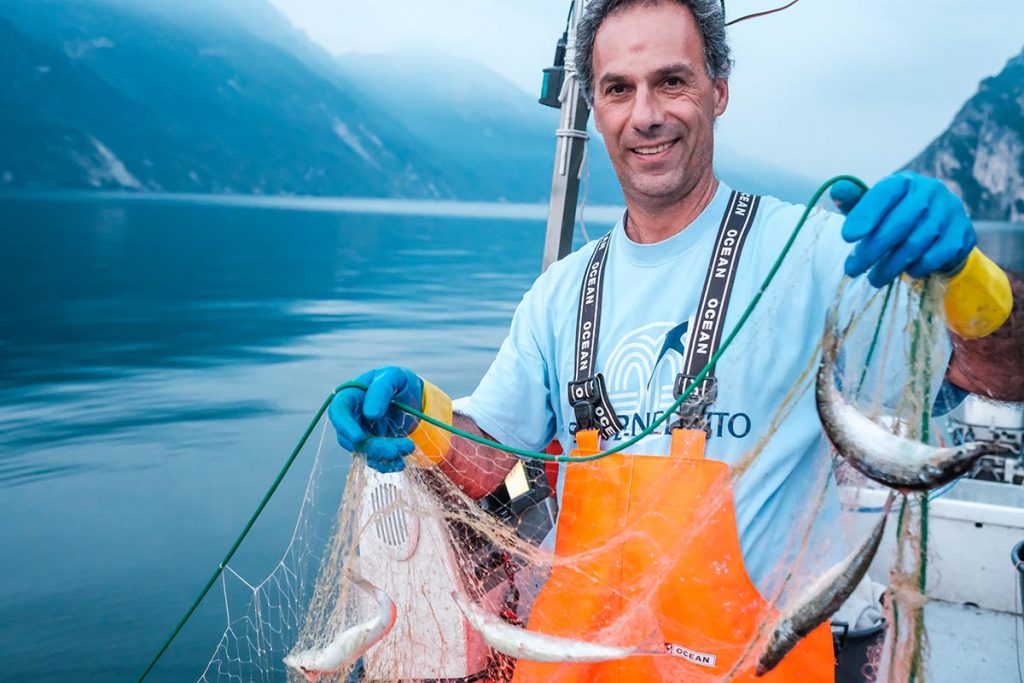 Who is he? Alberto is the fisherman of Lake Garda, the one who has made his passion for fishing a real profession. Respect for the species, protection of the landscape, passion unchanged over the years. Rania, whom we interviewed for you, explains that since childhood he has always had a great attraction towards the aquatic environment, so much so that he was already fishing at the age of ten. He started to explore the lake both in its depths and on the surface. Over the years, sport fishing became his main hobby until he obtained his professional fishing licence.
When to fish and what species
Garda Trentino with its clear waters is the "home" of numerous lake species. From carp to lake trout, from eel to whitefish, pike, tench, perch, sardines, bleak, to the native carp! However, fishing is not allowed for all species.
There is a ban on fishing for species such as the native carp. This fish does not exist in any other lake in the world, only in Lake Garda, but unfortunately it is in danger of extinction. Slowly, thanks to careful work by experts, it is repopulating the waters of the lake but, in order to allow this precious fish to reproduce, we have to wait a little longer before we can fish it. Other prohibitions are the fishing of eel and bleak (also almost extinct).
Some really interesting species are the autochthonous pike – a real rarity according to Alberto because it has already disappeared elsewhere – and lake trout that in Garda Trentino can weigh up to 20 kg.
Alberto's advice is to always check with local authorities – if you are not well informed – about regulations and prohibitions.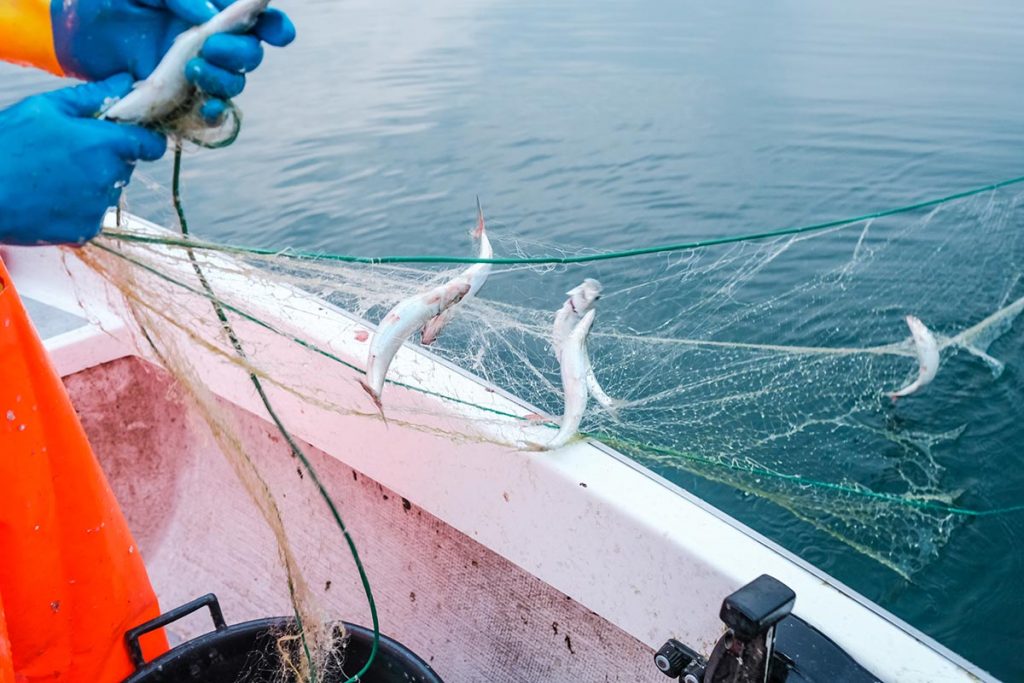 Fishing in Trentino has been liberalized and therefore to fish in Lake Garda Trentino shore you do not need a fishing license while for fishing in rivers and small lakes you need a daily or weekly permit for sale at the Information Offices of Riva del Garda, Arco, Torbole.
When is it more appropriate to go fishing? Alberto naturally distinguishes between seasons. In summer, morning is the best time to go fishing, dawn is the best time or late evening. In winter, instead, the central hours of the day are to be preferred to ensure a good catch.
And, once you have managed to obtain a delicious "loot"… how to prepare these gifts of the lake? Lots of ancient and traditional recipes to prepare trout and other species. One of the main dishes of this territory is undoubtedly the "bigoi con le sardele" with extra virgin olive oil from Garda Trentino. A must! But also the sardines "en saor", the Garda trout and many other recipes!
Going fishing in Garda Trentino will leave you speechless. The high and imposing mountains overlooking the lake are spectacular. You may encounter some waterfalls descending into the calm waters of the lake and Riva del Garda and Torbole from afar, colourful, will seem fairy-tale. The light is wonderful, in the morning in some places it will seem almost dark while in others the changing light that reflects on the green mountains will seem to play with them.
Whether you practice rod fishing, or the spinning technique or fly fishing, Garda Trentino is a real Eden for fishermen of all levels, the important thing is always to respect the natural heritage of the area and fish with responsibility. You will have lived in the silence and peace of that moment, a wonderful emotion for you.