Secular olive groves, fragrant lemon trees, aromatic herbs… and just a stone's throw from imposing conifers: this is Garda Trentino. A corner of the Mediterranean at the foot of the Dolomites.
Secular olive groves, fragrant lemon trees, and aromatic plants and herbs: the Lake Garda Trentino area will enchant you, and it does so at its best. Even if characterized by an alpine landscape – making it an atypical fjord – it offers year-round mild temperatures and an incredibly Mediterranean climate.
What happens in this corner of paradise is something really unusual: south and north come together to create an unparalleled scenario.
And meteorology enthusiast Matteo Calzà has also confirmed this. Matteo has been providing careful and accurate weather forecasts over the years, informing us in advance on on the area's weather conditions, so that we can plan wonderful outdoor activities. Activities that, as Matteo explained, can be experienced all year round, thanks to Garda Trentino's microclimate, which makes it a perennial outdoor gym for all sports enthusiasts to explore.
Garda Meteo – forecasts by "weather addicted" Matteo Calzà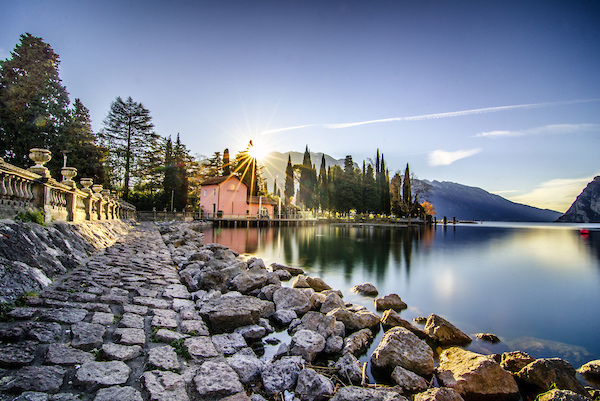 Passionate about science since he was a child, Matteo began to cultivate an interest in meteorology very early in life. He then began to collect meteorological data from the Garda Trentino area on a daily basis. Since 2001, he has been fulfilling his secret dream: he created Garda-Meteo and has been elaborating his personal forecasts for the Lake Garda area ever since.
Every season is the right season in Garda Trentino
Garda Trentino, where the Mediterranean climate of Lake Garda meets the cool climate of the mountain range, is a treasure chest of inestimable value.
As Matteo explains, this is an area with a truly unusual climate, where the cold weather is mitigated because of the waters of Lake Garda, which impart a much milder and more temperate climate to the surrounding area than it actually should at its given latitude: sunny days many months a year, air that is always "dry" – so you don't feel the bitter cold that winter usually offers (also thanks to the sun that's almost ever present) and, in summer time (which is never humid), you won't experience those sultry summer days.
But that's not all.
There's actually a dominating element that characterizes the summers in this area: wind. Precisely, winds.
These winds are defined as "Garda's gold". And more than one exists, the most important being the Ora, which blows from south to north and prefers sunny days during spring and summer.
The Ora allows you to practice outdoor sports, such as sailing and windsurfing, making Garda Trentino the undisputed area for of all sailing sports.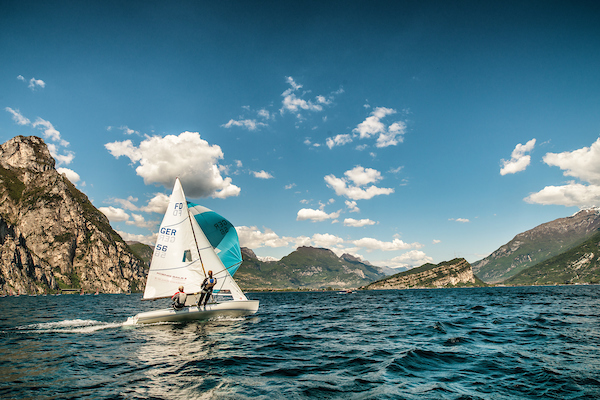 A gentle Mediterranean climate, which caresses this strip of paradise, also allows you to practice outdoor activities in the middle of winter! The sunsets – which are hardly clouded by fog, are wonderfully dazzling during winter, and delicately pink in summer – aren't burdened by an oppressive sky, and offer a romantic photo-worthy panorama.
Sports like SUP, walking, hiking, mountain biking, and climbing have no season here. And, guess what? You can take a dip in the lake in autumn or even in the middle of winter!
The shining sun, which warms many days in both autumn and winter, and the lake water that never drops below 8°C., are great reasons for taking a nice swim in any season!
Nature "speaks" of a climate that gently caresses it and helps typically Mediterranean plants – such as olive trees or agave – flourish. And, not too far from these, you can also admire alpine trees, such as birch or spruce. This wonderful contrast gives life to a chromatically suggestive and unique scenario.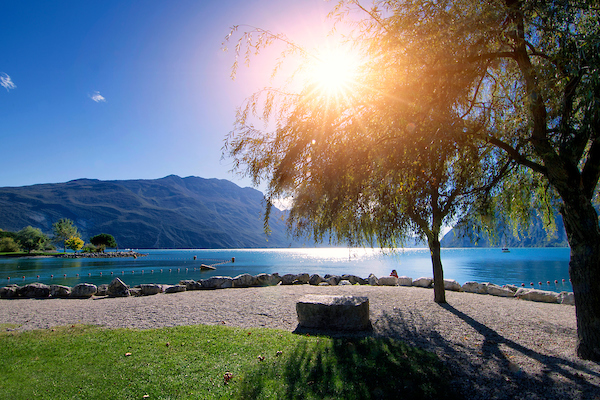 This is where PDO extra virgin olive oil is produced: among the most northern in the world and with a very high quality. Vegetables, such as broccoli from Torbole, are cultivated here, thanks to the area's microclimate and breezes, so much so that this variety is called "figlio del vento" – son of the wind. Here, every season is the right season to stay in touch with nature, breathe in the fresh summer breeze, or the crisp winter air, while enjoying a pleasant springtime and golden autumns.
Garda Trentino is the destination that, for centuries, has welcomed the nobility of Central Europe. They would visit this area, since it was known for its health benefits, while the fame of the Kurort – or health retreat – made it renowned enough that it was and still is acknowledged as an important rehabilitation center.
Arco, and all of the "Busa" (as northern Lake Garda is usually called), are popular as locations where you can rest and undergo treatments, thanks to its mild climate, as well as its clean, healthy air and, of course, its panoramic position on the lake. Would you like to see it with your own eyes? Check out our webcam now. 
Garda Trentino is that strip of Mediterranean at the foot of the Dolomites, which has always known how to offer happiness, month after month, at every sunrise… making you feel like you're part of a great tiny miracle.