Bright reds, delicate pinks, and orange hues… sunsets in Garda Trentino are the time of day everyone most eagerly awaits to take breathtaking photographs, as Mattia Bonavida – social ambassador for Garda Trentino – reminds us.
Fiery red, bright pink, intense orange. These are the nuances of sunsets in winter.
When temperatures drop, nightfall offers one of the most anticipated moments of the day for incurable romantics and photography enthusiasts. And, if we're enjoying the sunset from one of the most beautiful corners of Italy, Lake Garda Trentino, this moment becomes increasingly special.
If you too want to immortalize the moment when the sun goes to rest and "kisses" the horizon, by taking a special photo to post on social media, we'd like to suggest sometop locations, with the help of our social ambassador, Mattia Bonavida.
Social ambassador Mattia Bonavida's dream photography
Who's Mattia? Born and raised in Riva del Garda, he's a passionate landscape and travel photographer in constant search of something unique and unrepeatable. He loves using colors to impress and convey emotions through his photographs. He spends a great deal of time in the mountains taking long walks and waiting several hours to capture, in one shot, the beauty that surrounds him. Mattia recently became the first Social Ambassador for Garda Trentino.
We asked him what his favorite locations were where we can admire an exciting winter sunset in Garda Trentino. Let's see what he suggested:
#PuntaLido. With lots of passersby during the day, in the silence of the first sunrays at dawn, this location instead offers a romantic fairytale panorama. But you'll also be able to get a great shot at sunset. The best spot? From the pier along the Fraglia Vela Riva.
#LagodiTenno. Always one of the most beautiful lakes to photograph. Full of charm and, even here, the sunset proves to be the best time to shoot. The light reflected on the waters of the lake creates a purely magical atmosphere.
#CimaCapi. The summit can be reached through a via ferrata that starts from Biacesa in the Val di Ledro and offers a breathtaking view of Upper Garda. Dawn is certainly a unique moment to shoot, but sunset is also quite breathtaking.
#Monte Stivo. At 2,060 meters, this is one of the best "balconies" overlooking Garda Trentino. Watching the sun set and nightfall from here is definitely an experience you can't miss out on. But you have to take the weather into consideration so you don't end up getting lost in the fog at a high altitude.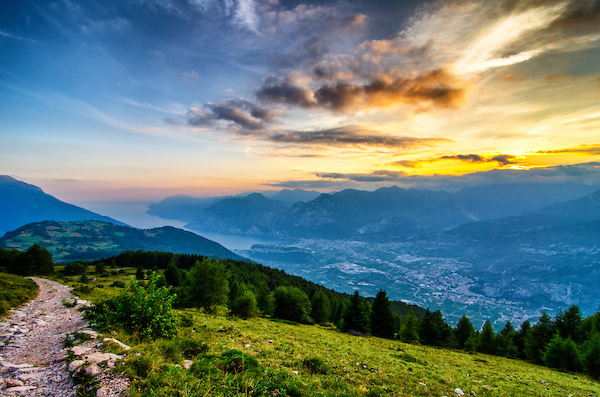 #MonteCorno. Overlooking Nago, you can reach this location in about 40 minutes from town. From here, you'll be able to enjoy a truly splendid, unique panoramic view of Upper Garda. The sunset from here is beautiful, especially during winter.
#MonteColodri. From here, you can observe the beauty of the castle of Arco, which stands out from the landscape, then merges with the horizon and the lake. Both sunrise and sunset are perfect for capturing a breathtaking panorama.
#SpiaggiaPorfina. Garda Trentino offers an immense variety of landscapes. You can get a really splendid perspective of the lake from the pier located on the lakefront in the "Porfina" area, both at sunrise and at sunset.
#DaTorboleANago. Climbing up from Torbole sul Garda to Nago, you can stop by car and admire a unique panorama of the lake. Here, as for most of the locations mentioned above, the sunset is one of the best moments to enjoy this location.
#PuntaLarici. One of the most photographed locations ever, that's why it's important that you shoot at different times of the day, in order to capture its various colors and dynamics. At dusk, for example, you'll get a completely different perspective from what we often see on social media.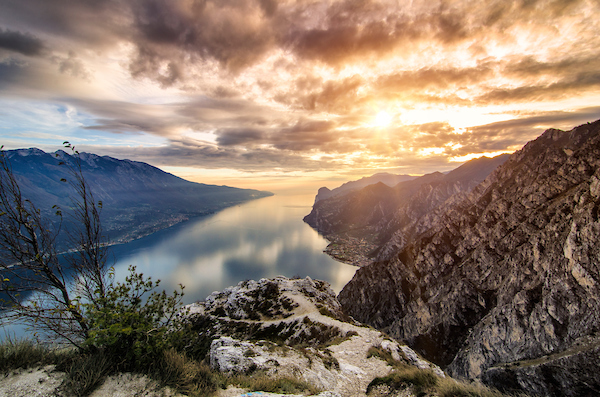 This is the advice given by a talented photographer like Mattia who has, in recent years, even become coordinator of the Nikon Italia project, as well as the first Social Ambassador for Garda Trentino. We're sure that, with him, every moment of the day becomes pure poetry, magically immortalized in one of his photos.
The sunset, along with the spontaneity of its colors, its warm atmosphere, its dramatic hues, has always been the best time of day to take photos, and winter enlivens this natural phenomenon in Garda Trentino, making each shot a memory of unparalleled beauty that you can share on social media. And, don't forget to also share your photos with us too by using the hashtag #gardatrentino.