Cycling in winter, kissed by the sun, and with temperatures that are always mild? You can in Garda Trentino! These are our suggested top 5 itineraries.
The "father" of mountain biking in Europe, Uli Stanciu, had told us once in an interview: "Cycling in Garda Trentino has no distinct season."
And he was right! In this land kissed by the sun, with its Mediterranean climate, mountain biking is a pleasure … in any season, even in the middle of winter.
You can chose mountain bike trails with various degrees of difficulty, and lose yourself as you admire infinity, the blue sky, and the turquoise lake sparkling from afar as the rays of the sun gently caress it.
Garda Trentino offers fabuloustrailsfor every season. We put together these top 5 winter itineraries, but we're sure that each of you will have your own favorite trail to take.
So let's get going!
# 731. Garda Sarca Ring. This is a challenging itinerary – more so because of its length than because of its difficulty – along which you'll discover all of Garda Trentino. A trail with uphill and downhill runs where you'll be able to see across the entire territory, from the lake inland, for a total of 61.6 kms of pure excitement.
#749. Laghel. A 30-km bike trail that passes through olive groves and leads to a non-existing lake. The trail that will lead you to Laghel (the highest point of the itinerary), above Arco, and then to Ceniga, where you can admire the beautiful Roman bridge along the Sarca river and stop to listen to the relaxing sound of flowing water. The elevation gain doesn't exceed 500 meters and, all in all, it's a rather easy trail.
#770 Monte Brione Run. A short but challenging trail along the majestic Monte Brione, the characteristic crescent-shaped mountain that stands between Riva del Garda and Torbole and that "sketches" the profile of Alto Garda. This trail is "only" 7.1 kms, but it is intense. It starts off among suggestive olive trees and then reaches one of the most evocative panoramic points of Alto Garda: the Batteria di Mezzo fortification. The trail is rather technical in its descent, with steps and rocks that require some mountain biking know-how but, before you venture down, remember to take a panoramic photo. It's definitely a must.
#737 Lake Tenno. A 22-km, medium-difficulty MTB trail that takes you to the turquoise waters of Lake Tenno and its medieval village suspended in time. Along the way, you'll fall in love with the fairy-tale landscapes of Alto Garda and, depending on the altitude, you'll cycle among olive trees, vineyards, and chestnut trees. The climb is tough but, with an electric bike, it's a whole other story. Once you arrive at Lake Tenno, which is one of the most beautiful lakes in all of Trentino, you'll definitely want to stop and take a photo of its incredible, intensely blue waters.
#4. Sarca Valley and Lake Cavedine. An almost entirely paved, easy and enjoyable trail, which starts from Arco and leads to Lake Cavedine. This is a 36.7-km ring that winds through the valley formed by the river, as far as Sarche. You're lovely return ride will take you along Lake Cavedine, a small mirror of fresh water behind the well-known "Marocche". With its apple orchards, plum trees, and vineyards, this valley is rich in fruits and, if you'll love taking a swim in the lake during the summer, you'll also love to stop and admire this oasis of peace and tranquility during the winter. A trail for everyone, novices and experts alike.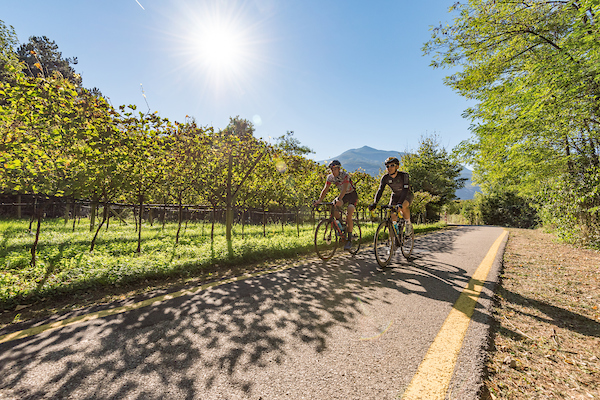 These are only 5 winter itineraries you can explore on your mountain bike (electric or not), but we're sure you'll love many others.
Mountain bike and free-ride enthusiasts will find the perfect combination of a luxuriant nature and well-kept trails in Garda Trentino, among both its Mediterranean and alpine landscapes, while inhaling the scent of aromatic herbs and tiny mountain flowers. That balance which only careful hands that synergistically work with mother nature could create. Welcome to Garda Trentino, where your bike becomes an extension of your body and pedaling is really a way of life.