There's no season better than another. The SUP, the Stand Up Paddle, is a sport that at Garda Trentino is always so much fun!
The SUP is a mix of surfing and canoeing.
An activity that tones your muscles up, relaxes and lightens body and mind. And it is easy.
This is the SUP, the Stand Up Paddle. To try it, you need a stretch of water and a breath-taking view around.
An ideal place to practice it? Lake Garda Trentino!
The correct position – as the word itself suggests – is standing on a board, looking towards the horizon, parallel feet and legs slightly apart so as not to lose your balance. Here we go! It's time to enjoy the view around you.
The SUP is not just a sport, it's not a fashion, but a real lifestyle.
At Garda Trentino, this activity can be practiced all year round thanks to the mild Mediterranean climate of this strip of paradise embraced by high mountains and kissed by the sun many months a year.
We met an expert and great SUP enthusiast and President of Riva del Garda Sup Club, Paolo Bassetti.
Paolo is passionate and enthusiast, he is so keen on this water sport.
"Catching the eyes of those who watch these strange surfers on the paddle and making them curious and put them in contact with us. This is what we do every day, and this is where we started to build the club," Paolo tells us.
Sup race, sup touring, sup downwind – the wind blows from behind – and the sup wave, in some conditions. So many different forms of this outdoor sport to practise it without barriers or limitations.
A small vademecum to practice SUP without risk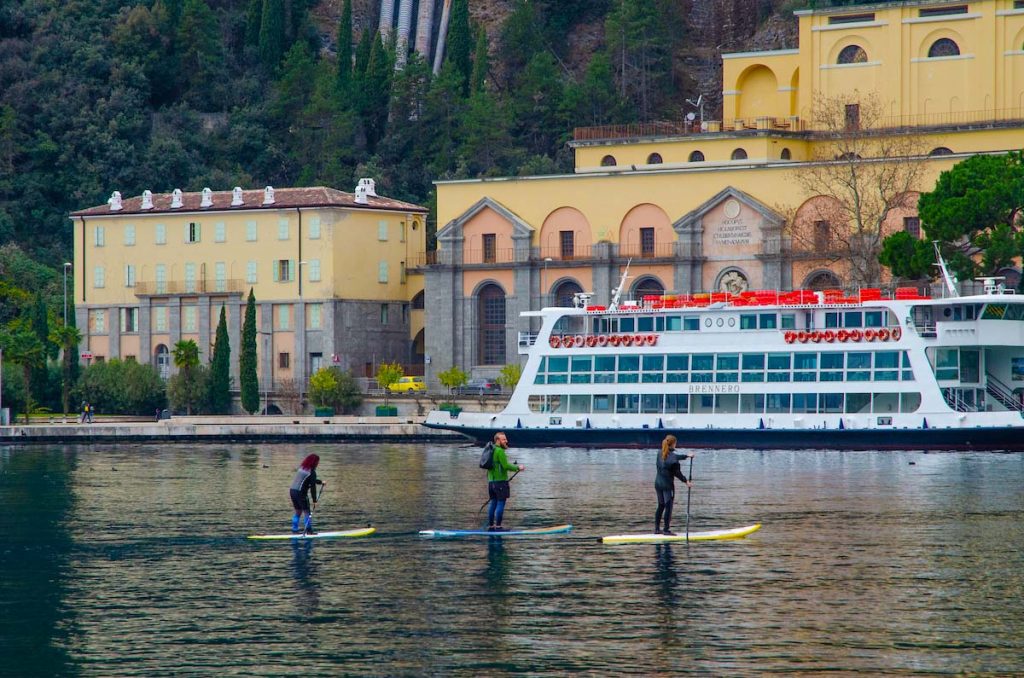 Paolo suggests some very valid advice to us to face at best a day on the SUP. The Stand Up Paddle is an easy sport to learn especially if you have previous wave surfing experiences.
In the SUP, as in wave surfing and windsurfing, the weather conditions make the difference and determine the greatest difficulties. Please avoid the practice of SUP in case of thunderstorms and strong wind from the ground – remember that the carbon paddle is a lightning rod. Here are some practical tips:
– Inform yourself about the currents and winds on that day.
– If you try your hand at Long Distance or cruising away from the coast, it is a good idea to have a whistle to signal your position to other boats.
– The life jacket should always be worn, even if we are good swimmers.
– Always use the leash, it will ensure that even after a fall the board stays close to us. Pull it to be always able to approach it quickly.
– If you intend to go out alone – which is never recommended – it is suggested to communicate the time of exit, the duration of the trip and the route.
– Carrying your mobile phone in a watertight bag is another great idea. If you need help, the important thing is to put it in silent mode so as not to disturb your activity.
– Paddling upwind is like riding a bicycle uphill. If you are trained, you can row against the wind if it blows up to about 18 knots. If you are caught in a strong wind from the ground and can't reach the coast in an upright position, paddle on your knees on the board so that you can paddle on a lower surface against the wind.
SUP in every season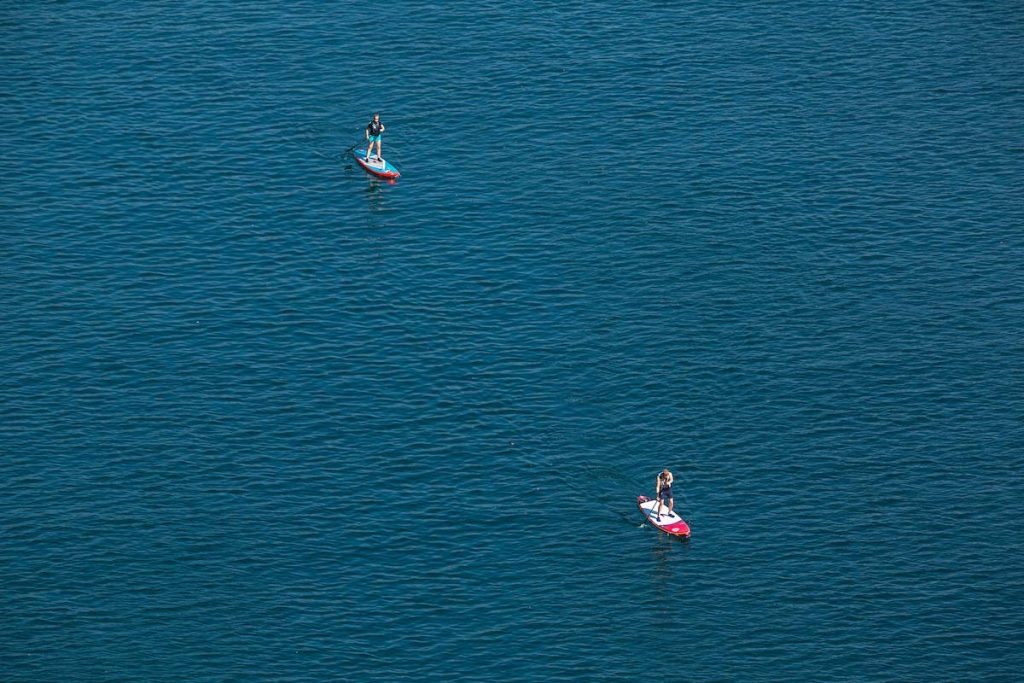 The stand up paddle can be practiced all year round. In all seasons, you can enjoy the colours and scents that will give you beautiful and intense emotions!
Your paddle will be the link between earth and water and even the sky will seem closer to you.
The mountains surrounding Garda Trentino will transmit you priceless sensations, as well as the silence around you.
In autumn, winter, spring or summer the Sup becomes pure ecstasy.
WHAT TO WEAR TO PRACTICE SUP IN DIFFERENT SEASONS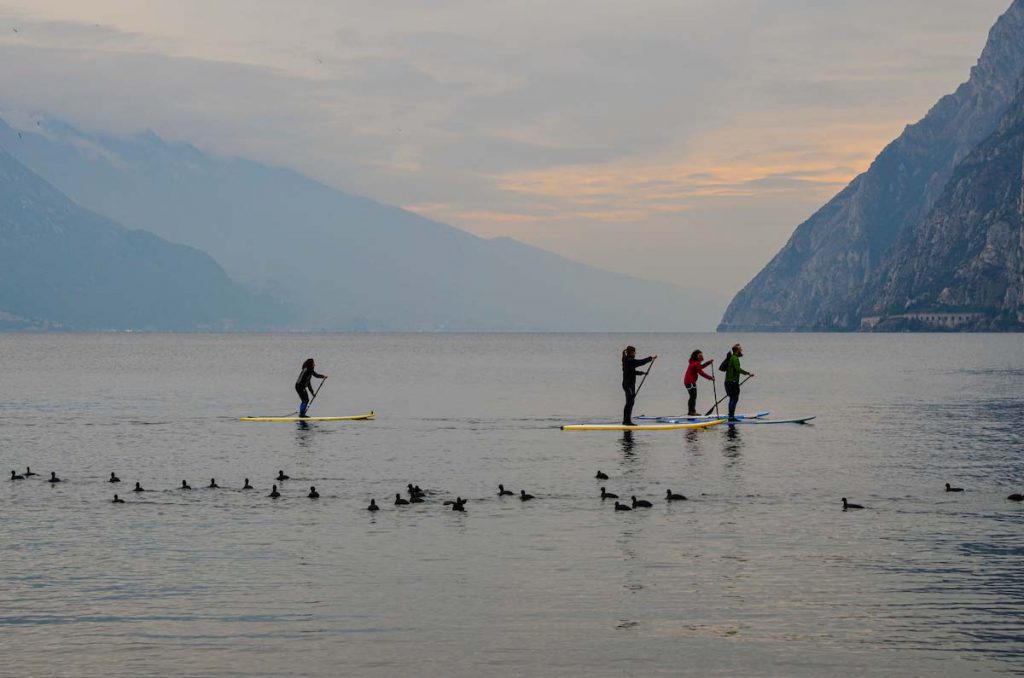 In winter, it is advisable to wear a 3-4mm neoprene wetsuit with a hood. Shoes are necessary, as the feet are the part most in contact with water, which in winter can reach 9 degrees.
Neoprene gloves at discretion.
In autumn and spring, a 2-3mm wetsuit is more than enough.
Running and/or winter hiking clothing is an option for experienced paddlers and for short trips in calm water.
In summer, a long-sleeved Lycra and a hat will be enough to protect you from the sun. It is also very important to have one or more water bottles, in order to have an additional supply in case the trip should get longer. In this way, you will avoid dehydration.
It is also advisable to always wear polarized glasses to protect your eyes from UV rays.
Take a look at the best routes to face on the SUP at Garda Trentino and let yourself be enchanted by this sport!
Paddling after paddling, you will move away from the coast and in a feeling of lightness, freedom and immensity, you will come to enjoy the beauty of this strip of Mediterranean called Garda Trentino. Discover here the best offers for a holiday marked by the gentle rhythm of the SUP.