Garda con Gusto- Gourmet Experience, the most awaited food event of the year, will return in 2021, but while we wait to taste once again the delights of Garda Trentino during this event, let's retrace the most delicious dishes of the last event starting from the choice vegetables of Officina Verde.
Imagine a gourmet event. Whole days dedicated to the food and wine excellences of such an incredibly varied area as Lake Garda Trentino. Imagine aromas and flavours intertwined with memories and traditions. Thus was born Garda con Gusto – Gourmet Experience which for five years has been, and remains, an unmissable event during the autumn season and which wants to celebrate it in the best way: at the table.
This meeting of local and international, starred chefs, transformed – thanks to food and wine excellences, mouth-watering spectacles and typical products – into a fixed appointment, will not be held this year. The rendez-vous with taste will appear again in 2021 and, we are sure, (it has to be said) the wait will give an already much loved event an even sweeter "flavour".
Waiting, therefore, to relive the food and wine emotions of Garda con Gusto, we turned to the local chefs who participated in the last event, to let them tell us how the idea of their "flagship dish" was born, what inspired them and, above all, what are the Alto Garda raw materials that have a special place in their hearts!
We started with what has been called the Salotto Green (Green Lounge) of Garda con Gusto, led by the Ristorante Vegetale Officina Verde in Riva del Garda.
We met, with you in mind, the chef Andrea Prandi who enthusiastically told us about the harmony of tastes created by the meeting of exceptional raw materials that gave life to the main dish of his lounge: Spaghetti Monograno Felicetti creamed with molche dell'Agraria of Riva del Garda and crispy leek from Val di Gresta.
But how did this combination of tastes come about?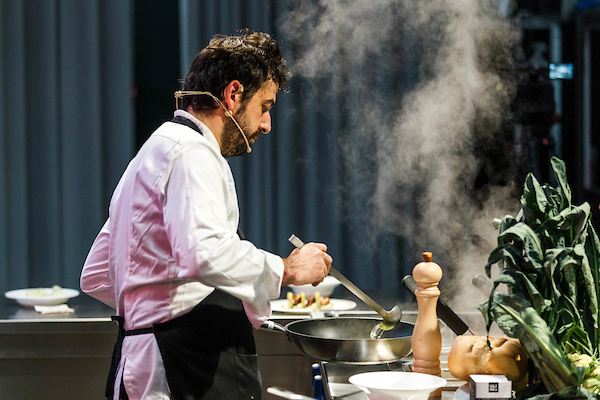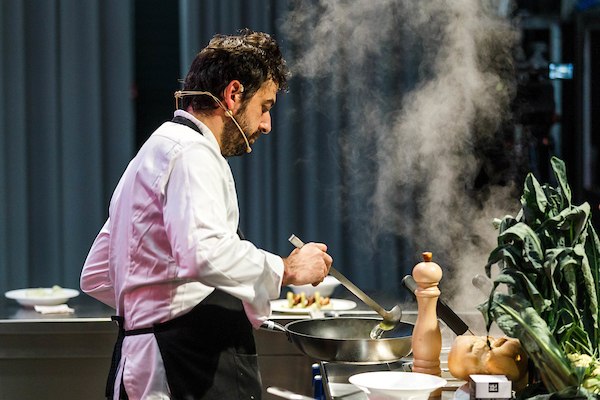 This meeting of flavours stems from the desire of chef Prandi to use an excellent pasta like the Trentinissima Felicetti but made of pearl barley, to taste a less refined cereal. And, to counter the sweetness of this type of pasta, Andrea and Alessandro, both chefs of the Officina Verde, have decided to use a characteristic element of Garda Trentino: the molche.
What are they? Basically, the molche are what remains of the olives after the oil has been pressed. Over the years, this extremely precious product has become an essential element of the Alto Garda gastronomic tradition.
Andrea explains that he wanted to use this excellence for three reasons:
The first is because this element is very poor. A "recovered" food perfectly in line with the ethical philosophy of his restaurant.
Secondly, for the bitter note of the molche, which gave the dish balance.
And finally, because the Garda Trentino olives have a special place in Andrea's heart. Since he was a child, he tells us, he has always produced extra-virgin olive oil.
The indelible memories of his childhood are linked precisely to the moment of harvesting what we can define as the "green gold" of Garda Trentino.
In his restaurant Andrea is very keen to offer his guests the excellences of his beloved territory, starting with the extra-virgin olive oil that comes from the "Terre di Gu" mountain organic farm in Pranzo (a hamlet of Tenno).
And the wine pairing of this dish?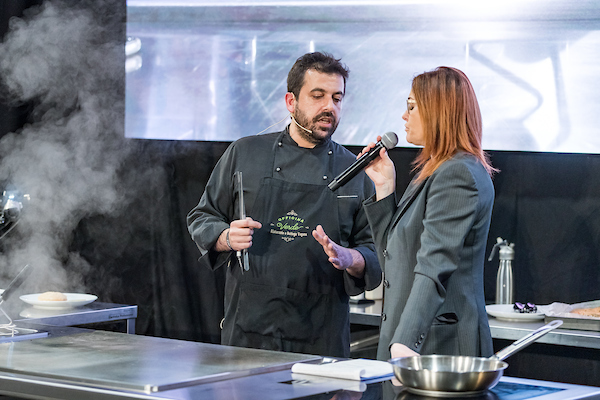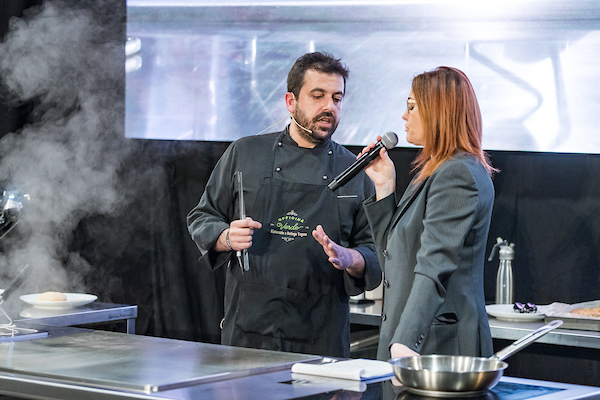 Every good dish must be worthily accompanied. Chef Prandi knows this very well and precisely to enhance a creation like his, having a strong flavour, but without diminishing it, he had proposed in collaboration with the Cantine Naturali Torboli of Tenno, an "easy to drink" wine: an organic Merlot Rosato without sulphites . The result? A "clean" palate ready to receive mouthful after mouthful of this delicious gourmet dish.
Who knows if Chef Prandi will surprise us again next year!
To find out, we will have to wait for next year, but while waiting to be able to sit in his Salotto Green, if you would like to spend a nice evening enjoying Alto Garda vegetable tapas excellences, know that at Officina Verde on the days when there should have been Garda con Gusto, you will find a menu inspired by the event with typical products of the area and all the love of a green cuisine, healthy and respectful of the gifts of the luxuriant nature of Garda Trentino.
It only remains to be overwhelmed by the taste!