Holidays and culture often go hand in hand. For your stay at Lake Garda, we suggest you 10 places you should visit to live your holiday surrounded by the local historical and cultural beauties!
Garda Trentino: a mix of alpine landscape and fertile Mediterranean climate where you can get the best of natural, cultural and culinary treasures like the famous cliffs if you are a climber, the mountain peaks if you are a mountain bike hero or the ancient churches, monuments, museums, towers and hamlets if you are a culture enthusiast.
When you think of Garda Trentino you think of its superb natural beauty. Anyway, a holiday here also means to gill up on culture. Here's our top 10 culture to discover 10 cultural places you cannot miss while on holiday at Garda Trentino.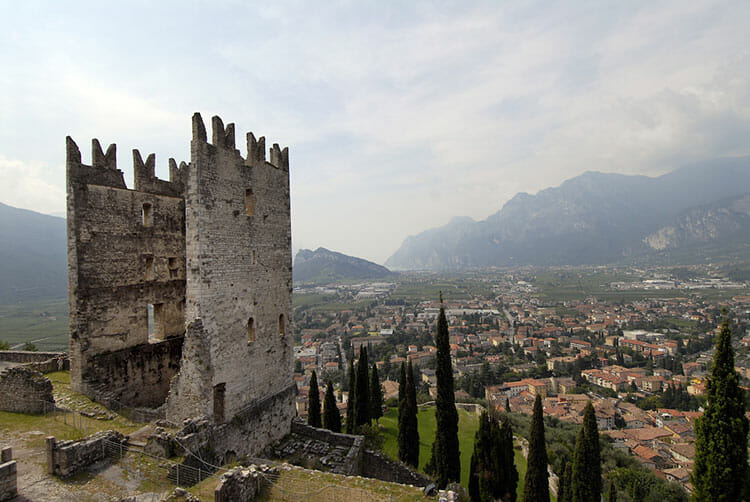 Hydroelectric generating station of Riva. (Check opening period here) A real architectural jewel by the architect that built the Vittoriale of Gabriele D'Annunzio, Giancarlo Maroni. A visit inside (good for children, too) will surprise you with original multimedia exhibitions that will make you understand the power of water and the engineering genius. The all-around view from the terrace on the "busa" is stunning.
Apponale Tower. 165 steps to the top. Anyway, once you are up there, the view is breath taking. The Tower is a symbol of Riva del Garda. Built in the main square, they built it in the fourteenth century with stone ashlars of different sizes as protection of the port and the square. In the Twenties, they replaced the onion-shaped summit with the current one. Tourists always take dozens of pictures to it.
Cultural Walks. Generally speaking, a cultural holiday at Garda Trentino is like "going for a walk". Yeah, here you are spoilt for choice. Whatever place you want to go to is very interesting and tells about famous minds of the past like Goethe or Rilke. The urban trekking is trendier and trendier and is a great occasion to trace the history and traditions of a place. In Riva del Garda, Arco and Torbole among art, lake and beautiful nature… Are you still undecided?
Canale di Tenno. Wanna live a walk into history? Go to Canale di Tenno! Here, the past is still untouched. A thrilling village, one of the most beautiful hamlets of Italy. Canale is a magical place that will let you live the peacefulness of the ancient times. Narrow alleys, houses made of stones… it looks like a medieval labyrinth!
Around Garda Trentino.
What about the places around Garda Trentino? Go for a walk near the "busa" and you will discover the stunning Museo delle Palafitte of Ledro to see how our ancestors used to live 4,000 years ago in Valle di Ledro (during the Bronze Age, they lived in stilt houses all around Lake Ledro). Go and visit this museum; if you are a history enthusiast, you will love it! Finally, around Garda Trentino there are two very important museums: Muse in Trento and Mart in Rovereto. The first, Muse – Science Museum, is a stimulating museum where the most advanced experiments in the field of new technologies and IT take place. An interesting and fascinating place for adults and children!
The latter, Mart in Rovereto, is one of the most important modern and contemporary art museum in Italy. The collection is great: Futurism, Metaphysics, Arte Povera, Conceptual Art and experimental art. Furthermore, every year they organize temporary themed exhibitions.
We told you. A holiday at Garda Trentino is more than a trip to the lake, a walk to the mountains or a tour by mountain bike. Here, everyone can plan his holiday as he wants because Garda Trentino is the place to be, always!