the northernmost extra virgin olive oil in the world. Above the 46th parallel, it is produced in Garda Trentino with unique features and a colour that turns it into a proper green treasure.
THE NORTHERNMOST EXTRA VIRGIN OLIVE OIL IN THE WORLD
Above the 46th parallel the northernmost extra virgin olive oil in the world is produced. Where? On Lake Garda Trentino! This area is a proper Mediterranean scrub in the heart of the Alps where rosemary, sage and many other fragrant potherbs are the backdrop of Lake Garda together with centuries-old olive trees. Blowing strongly, the Ora wind mitigates the cold Alpine harshness and brings the magic of the Mediterranean sea in this stretch of land.
THE AGRARIA SHOP IN RIVA DEL GARDA
Specifically during this period, the olive trees give us a proper treasure: their fruits, which are turned into a green treasure in the olive-oil mills with care and dedication.
We have been to the Agraria shop in Riva del Garda, the important winery-olive oil mill that produces bottles of selected extra virgin olive oil every year; olive oils that have achieved the highest national and international accolades.
THE MAGIC MOMENT OF OIL PRESSING
Here we have been told about the magic of olive pressing, and we have been explained that olives are harvested earlier, as to have a fresh light fruity oil with a round taste. The pressing takes place right after the harvest, only few hours later as to avoid the fruit oxidization and keep the oil perfumes and aromas unchanged.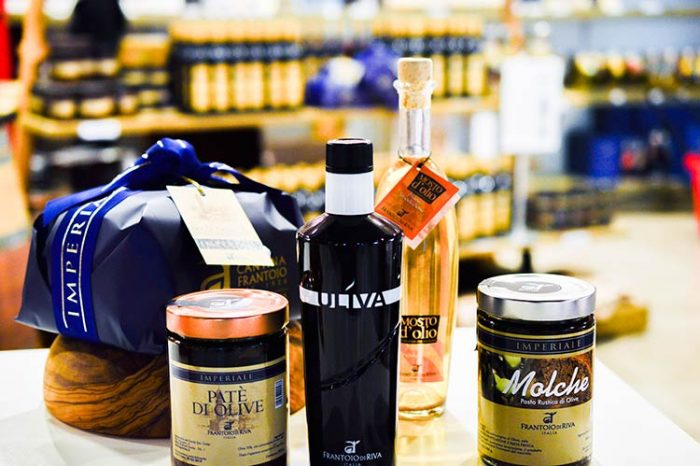 The processing is cold, that is below 25°C. Before the pressing, the olives are washed and dried as to take off all the impurities. After this stage, it's time for the pressing in a mechanical olive press where the oil is separated from water. The extra virgin olive oil is ready. What other fabolous things could be produced? Stacks of! Like the… oil must. What is it? It's an unfiltered oil that keeps all the characteristics with little impurities, subsequently eliminated by plate filters.
OIL & CO.
It's well known that you keep everything from olives. The pressing leftovers are turned into precious components which are the base of many excellences. The pit and soft parts are separated: the former turning into a heating fuel (once minced) with a high efficiency that enables it to be used to produce bioethanol, while the latter becoming molche, a typical product from Alto Garda and a proper peculiarity for the local gastronomy. With them as the main ingredient, it is possible to create delicacies like bread (link interno) and cakes with a unique taste.
Visiting Garda Trentino during the olive harvest and the extra virgin olive oil production means to live this territory at its fullest, where the production of oil is a real treasure. And if you have been late, you could just come and taste the final product in some finger-licking dishes!