White and dry wines, strong red wines, sweet wines like the amazing Vino Santo, fresh apple juices or the famous Trentodoc, the best bubbles to celebrate. At Garda Trentino, drinking is a real pleasure.
Garda Trentino, its scents of olive and lemon trees, its intense and vivid colors, its views that leave you speechless. Its unique and incredible climatic conditions make it a particularly rich and varied environment. But there is one cultivation that, above all, here in Garda Trentino gives great satisfaction: viticulture!
In fact, many varieties are cultivated, both native and international.
Wines of Garda Trentino
From a white grape, Nosiola, which benefits from the typical Mediterranean climate of the area north of Lake Garda and the influence of the Ora – the wind that blows from the lake to the hinterland –, comes a floral wine, fragrant and extremely enjoyable: its perfect match? Well, a nice fish from the lake, of course!
Another traditional variety is Schiava, which together with Lagrein, give life to rose wines, fruity, that ladies love. Many white fruit varieties allow a wide choice between different aromas, fine and spicy, savoury and elegant.
Ethical Wines
Then there are them, the "ethical" wines. Garda Trentino has always been an attentive and vigilant land with regard to the environment, nature and respect for it. Even in the field of viticulture, therefore, organic, biodynamic and as "natural" as possible wines appear. In line with current trends, which increasingly want attention to environmental issues, some producers have begun to successfully propose and produce organic wines, without sulphites and even vegans – produced according to the dictates of organic farming and without the use of products of animal origin throughout the winemaking process. The use of chemicals such as sulphites are in small percentage both in the bottles and in the fields where the grapes were grown.
Lovers of bubbles, you cannot do without it, the undisputed King of the holidays: Trentodoc!
Trentodoc and its precious bubbles
Tradition and territory merge bubble after bubble, creating a sparkling wine that is characterized by being produced with only Trentino grapes. The harvest is done by hand and then begins the entire process of the cellar, handed down from generation to generation with passion. The strict and rigid protocol gives life to a noble and high-quality product that will be your ideal "companion" of the Christmas holidays!
How can we not toast December 31st with a good glass of Trentodoc? At "Di Gusto in Gusto" Christmas Village in Riva del Garda, a review that enhances the food and wine products of Trentino and its producers, you will find a wide choice of excellent food and drink and just on New Year's Eve, including fireworks, dancing and music, you will toast to the new year with the original Trentodoc!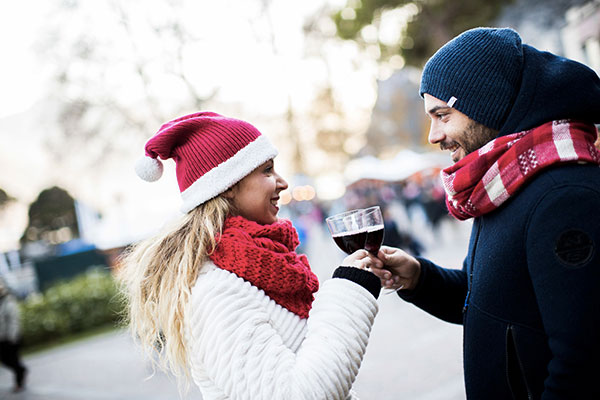 In Torbole sul Garda, always for lovers of bubbles and Christmas festivities, are on stage the Torbole Sparkling Saturday, every Saturday in December and the first Saturday in January, the picturesque town will be characterized by shops and open activities, live music, burning braziers that will warm the atmosphere, all accompanied by an aperitif with sparkling Trentodoc.
But in Garda Trentino you cannot miss a sip of delicious Vino Santo Trentino, which is obtained by letting the Nosiola grapes dry on wooden racks until the pressing, which takes place during the Holy Week. The juice is fermented and refined for several years, until you get an exceptional sweet wine, rare!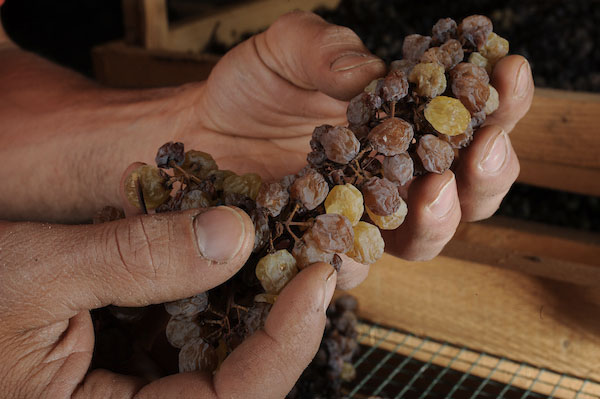 Apple juice for everyone!
But if the wine is not for everyone (teetotallers, under 18 and simple wine amateurs), let's taste the fresh apple juice of Garda Trentino! Sweet but never sickly – with that pleasant slightly acidic note – they are the ideal snack with a nice slice of homemade strudel.
The panorama of Garda Trentino is enhanced by the vineyards and apple orchards that frame its beauty. It is a magic to experience up close, perhaps riding your own (e)bike for a sustainable excursion. Cycling and walking in the open air here are ideal in any season thanks to the Mediterranean climate and as a reward, how about a nice glass of apple juice or a glass of Trentodoc? There are many local producers from whom you can taste a good glass. A visit to a farm restaurant or perhaps directly to the wine cellar, listening to the stories of ordinary people who every day with their work help to make Garda Trentino unique, all to be … drunk! All we have to do is exclaim: "Cheers"!